SOLBERG SPECIALTY HOUSING
Crankcases produce oil and mist particulate emissions in marine and stationary reciprocating engines and gen-sets. These emissions can compromise your engine's performance and lead to expensive repairs in the future. The solution? Crankcase ventilation systems capture these hazardous blow-by emissions. A high-efficiency CCV filter prevents oil mist from discharging into the atmosphere in an open configuration. Additionally, a crankcase filter protects an engine's turbocharger, intercooler, and exhaust catalyst from contamination in a closed configuration. Solberg's crankcase filtration solutions optimize engine performance and reduce the number of costly operator repairs. Both open and closed style ventilation systems regulate crankcase vacuum/pressure via manual or automatic controls, preventing leaks and oil loss through the engine seals.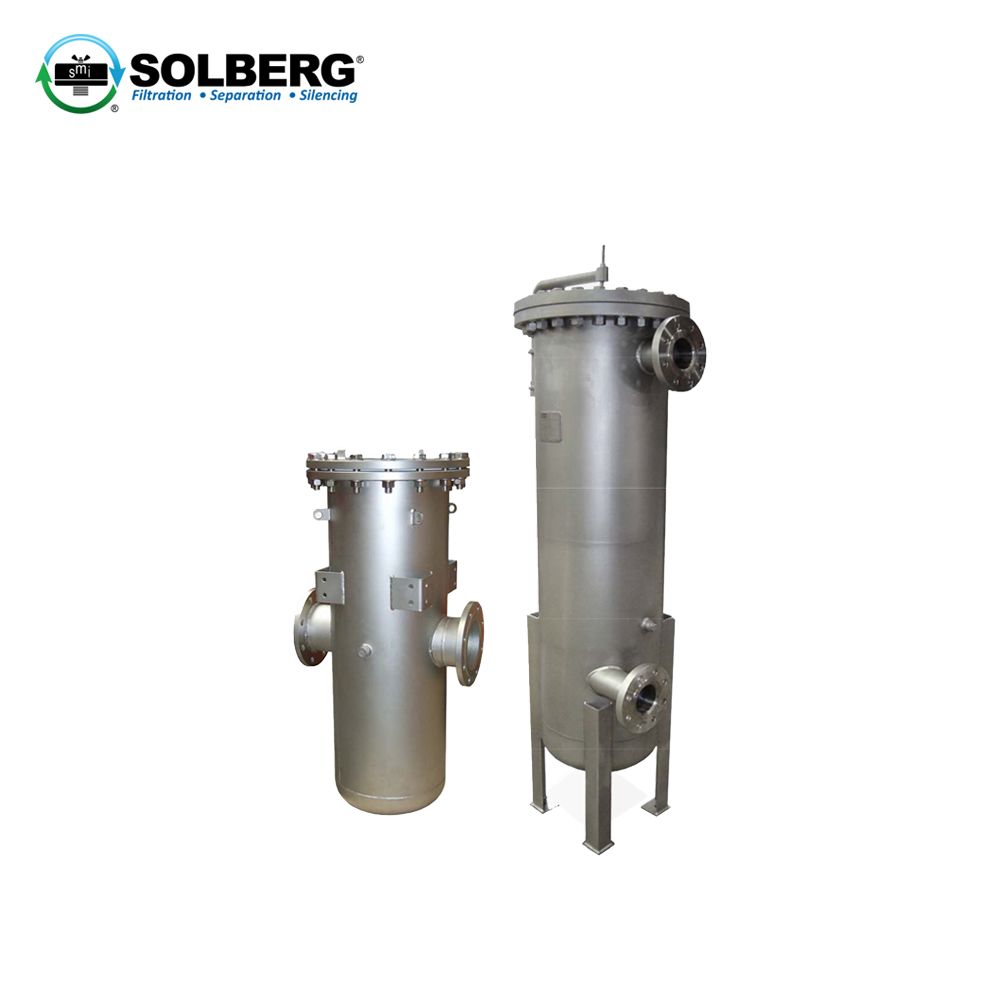 Pressure is a common driver of vessel design. Our company understands the varying operational conditions,  installation constraints, and construction requirements for different industries. Furthermore, we work to design and manufacture solutions that meet your specific applications' needs. We'll ensure your filtration systems meet ASME VIII or PED (Pressure Equipment Directive) standards, and complete essential non-destructive tests (NDT) to verify product integrity. Full documentation is available upon request, so you can rest assured your pressure vessels are entirely compliant and safe.
Applications
Our ASME vessels are designed for liquid separating, vacuum, oil mist elimination, natural gas applications and much more.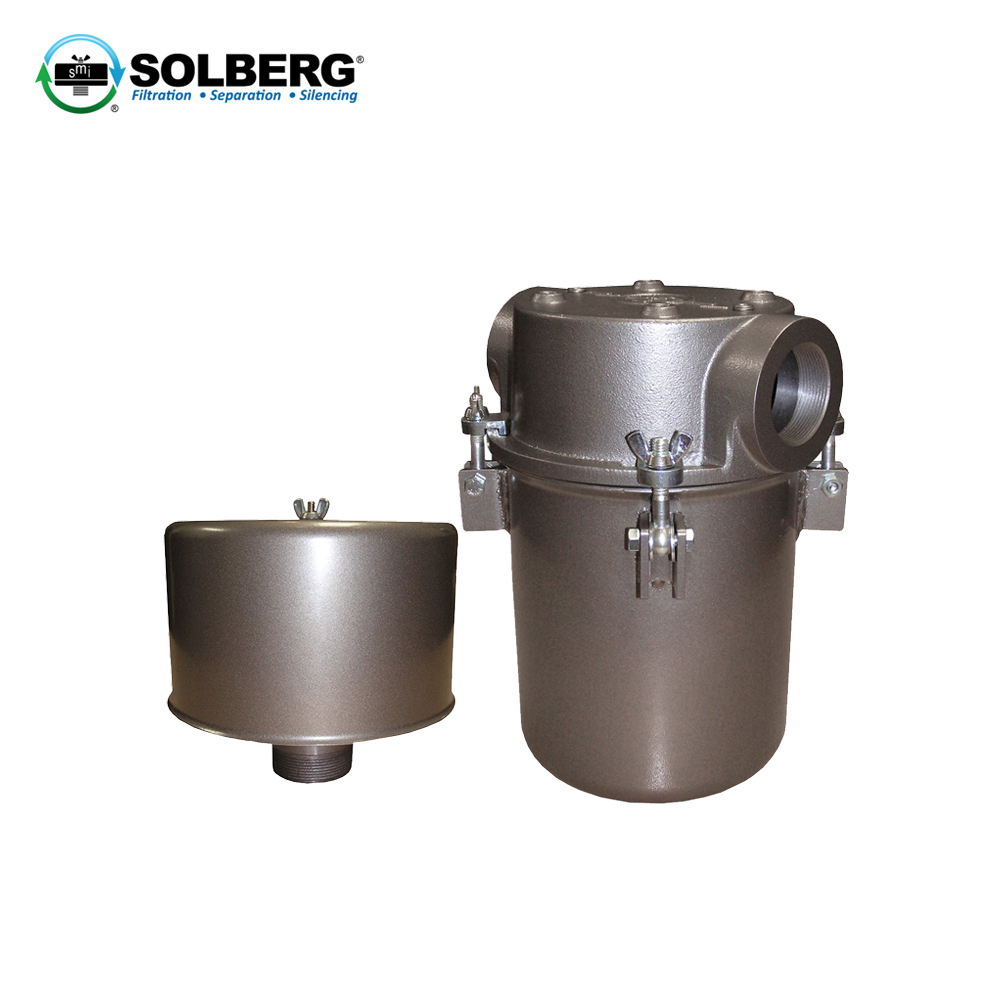 Corrosion Resistant Coatings
Stainless Steel Powder Coating
Solberg offers this unique finish for carbon steel and aluminum housings, allowing them to be used in a variety of applications that normally need stainless steel construction. This coating, referred to as S3, meets FDA 21 CFR 175.300 requirements and is approved for incidental contact. Housings coated with this finish may also be considered for use in corrosive environments, pharmaceutical applications, wastewater treatment, chemical wash down applications, and many more. Contact Solberg about your specific application for evaluation to ensure the S3 coating is the best solution.
PTFE Coating
Solberg offers a PTFE coating option on most product lines. This coating is a robust option for extreme duty applications. It may be selected for its release characteristics, as very few solid substances will permanently adhere to a PTFE coated finish. PTFE may also be selected for its inertness, as it is normally unaffected by most chemical environments. The only chemicals known to affect all PTFE industrial coatings are molten alkali metals and highly reactive fluorinating agents. When provided with a list of process chemicals, Solberg can help recommend appropriate coatings and products.
Electroless Nickel
This process deposits an even layer of nickel-phosphorus on the surface of our steel housings. The housing is dipped in a bath of plating solution, where a reducing agent reacts with the material's ions to deposit the nickel alloy. It is primarily used to create an improved visual effect on mild steel.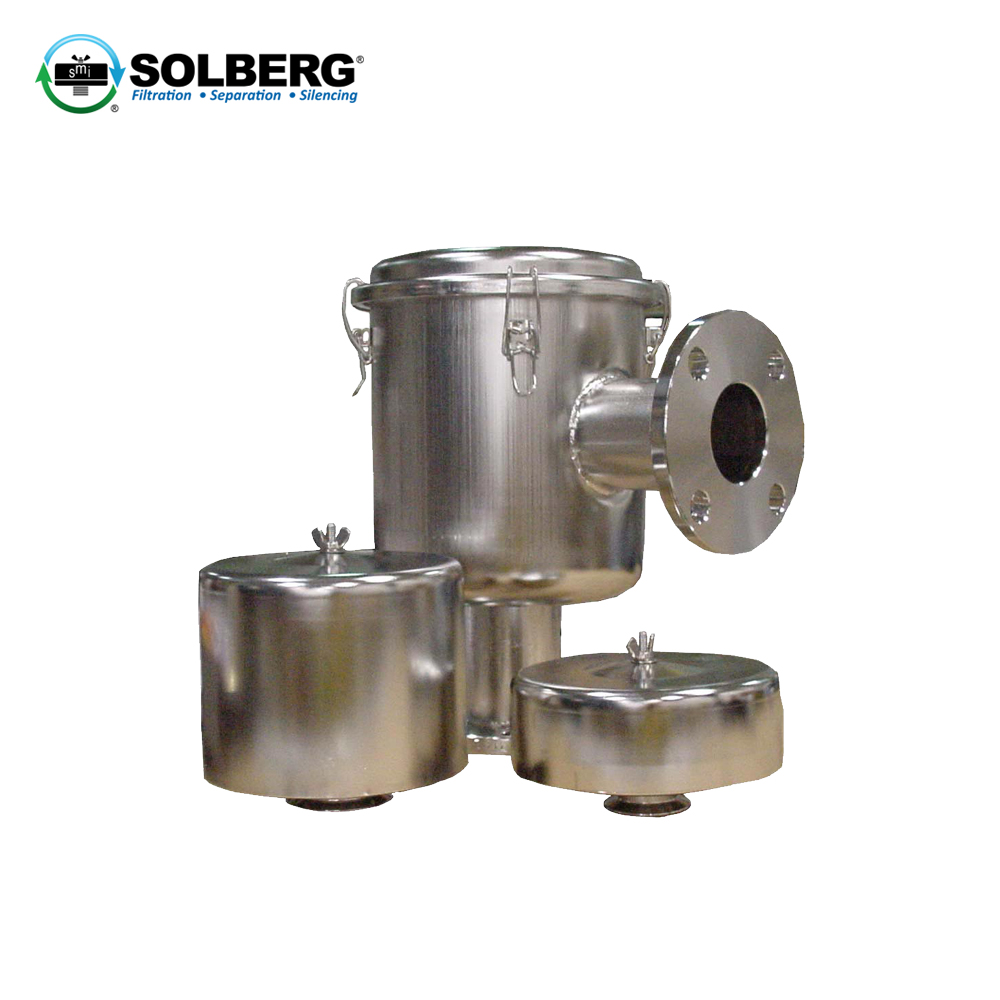 Stainless Steel Filter Housings
Solberg offers a wide range of standard housings in different materials of construction. Our stainless steel housings are corrosion-resistant, durable, and can be custom-built to fit your specific application. We can manufacture most housings and filter elements in the following types of stainless steel construction:
304 (S1)
316 (S2)
316L (S4)
When your application requirements dictate a custom solution, we design and fabricate a stainless steel filtration solution to meet your needs. If you have a unique application, please let us know, and we will create a custom solution for you.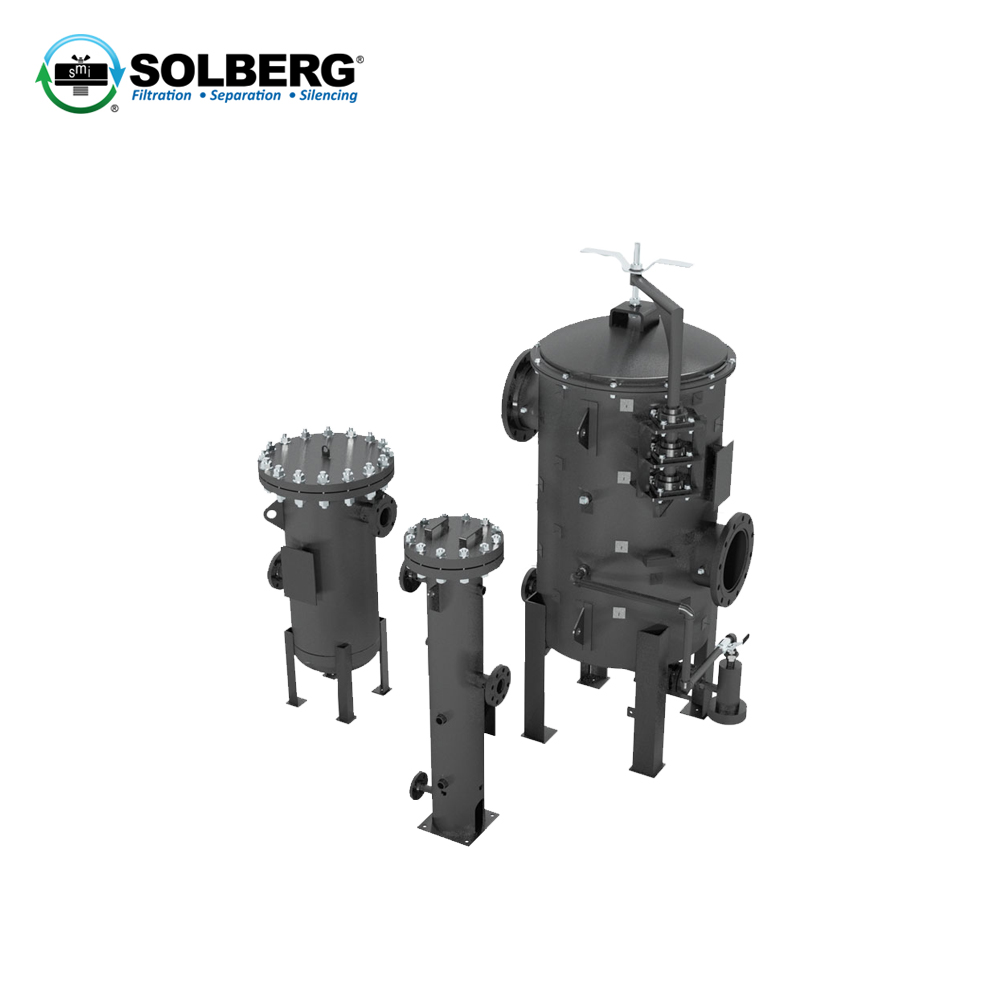 Suction Inter-Stage Fuel Gas Scrubbers are used to protect gas compressors from fine particulate and condensate. Without proper filtration, compressor performance is reduced. We customize our solutions to match your specific conditions. Solberg provides both vessels and filter elements for these applications. Capture and coalesce visible oily aerosol mist and recycle it back to the console or a separate storage area. These products reduce costs and mitigate potential health, safety and environmental risks.
Features
Carbon steel construction
Protects equipment from liquid and particulate entrained in the gas stream
Multi-Stage Separation: 316SS vane pack for liquid removal, 316SS mesh pad for trace liquid removal, optional high efficiency filter element
Fabricated in accordance with ASME vessel code section VIII Division I
Protects equipment from condensate, oil, and particulate entrained in the gas stream
Multi-stage separation
99.97% efficient at 0.3 micron separator for oil mist