RECIPROCATING COMPRESSORS
Reciprocating compressors are engineered to work efficiently in a wide variety of applications. They are used in auto body, tire shops, woodworking facilities, construction sites, amusement parks, and industrial facilities. You can depend on a reciprocating compressor when operating in less than ideal conditions. Featuring low installation costs, reciprocating compressors are designed for intermittent duty applications in harsh environments. They are best suited for applications where the compressor is turned on and off frequently. Reciprocating compressors save energy in no-load conditions and operate efficiently at partial load. This leads to higher overall efficiency for the compressor, resulting in lower maintenance costs. In addition, a reciprocating compressor has lower maintenance costs due to less moving parts when compared to other air compressor technologies. For more information, call 02-168-3193-5 #109 or add Line ID: @multiphase (available 24 hours a day)
RECIPROCATING COMPRESSORS
R-SERIES RECIPROCATING COMPRESSOR
R-Series reciprocating compressors are loaded with features designed for day-in, day-out performance. This industrial air compressor delivers high performance and tremendous value. Available as a gas or diesel driven model, a maximum pressure of 175 psig can be reached with this reciprocating compressor. This product was designed to support single and two stage splash lubricated pumps. R-Series reciprocating compressors can be tank or base mounted, as a simplex or duplex model.
Features
2 – 30 hp
Up to 175 psig
4.2 – 202 acfm at 175 psig on electric driven units
Gas and diesel engine drive models available
Tank or Base Mounted, Simplex & Duplex Models
Single & Two Stage Splash-Lubricated Pumps
Prorated 5-Year Warranty on Pump
Factory filled with AEON lubricant
REWARD RECIPROCATING COMPRESSOR
The Reward series reciprocating compressor is a fully packaged unit included with all the accessories that customers need. These are two stage splash lubricated compressors that can reach a maximum pressure of up to 175 psig. These durable compressors are tank mounted, with simplex and duplex models available. They are prefilled with AEON compressor oil to ensure a long life and efficient operability.
Features
5 – 25 hp 
Maximum Pressure Up to 175 psig
16.5 – 90.1 acfm at 175 psig 
Two Stage, Splash Lubricated 
Tank Mounted, Simplex and Duplex Models 
Vertical or Horizontal Configurations 
Package comes standard with up to six pre-installed options
Factory filled with AEON lubricant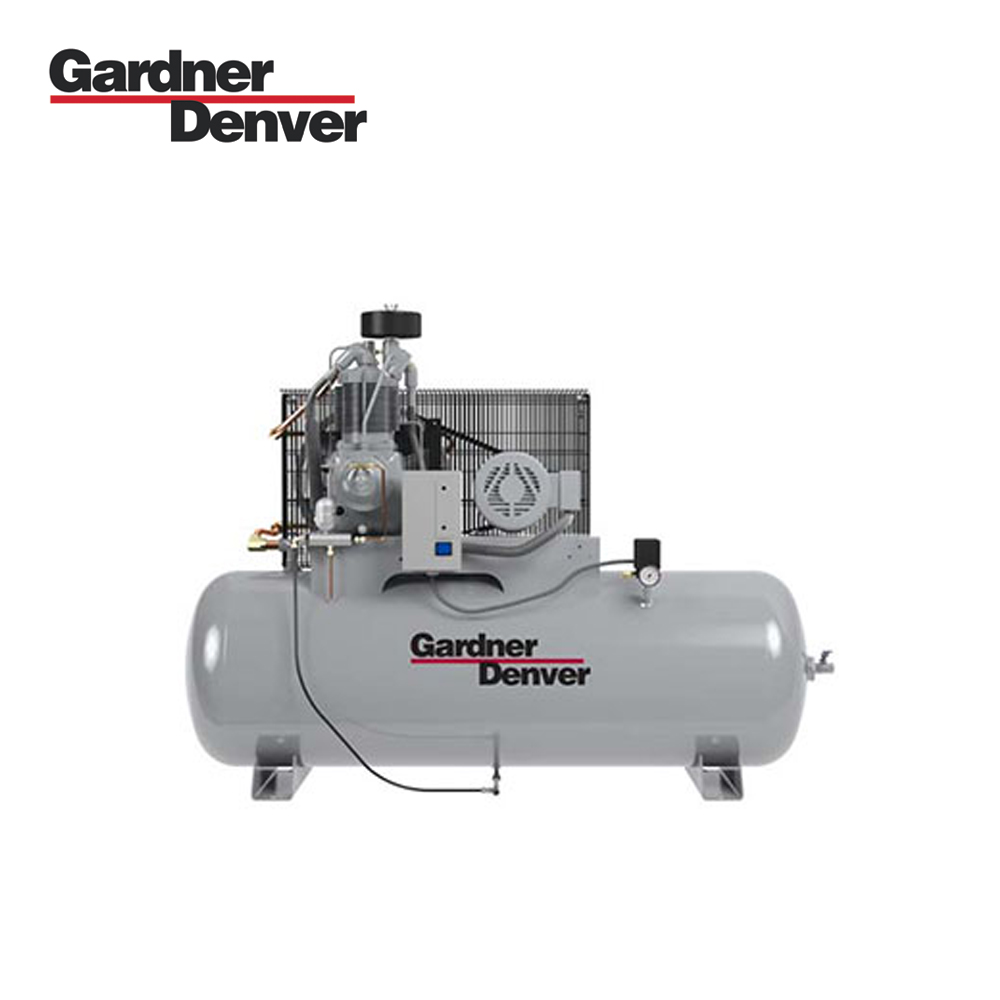 PL-SERIES RECIPROCATING COMPRESSOR
The PL-Series reciprocating compressor has been designed to operate in extreme duty applications. This pressure-lubricated industrial air compressor can operate up to 250 psig in remote locations, making it perfect for a variety of applications. This product features domed pistons, integral cylinder head, disc valves, and oil pump. The reciprocating compressor comes equip with a load-less auto stop/start feature, and can be tank or base mounted. All models are lubricated with AEON compressor oil. 
Features
Oil Pressure Gauge mounted on the front of the compressor for an excellent view and easy pressure monitoring
Tapered Roller Bearings insure long operating life of the crankshaft
Positive Displacement Oil Pump provides lubricant to all critical areas of the compressor pump that require lubrication
Crankshaft and connecting rod bearings are pressure lubricated for extended life
An external spin on oil filter and an internal oil inlet screen protect internal components from damaging debris
Hydraulic unloader with factory-set pilot valve provides easy, loadless start and low pressure protection for unattended operation
Industrial class bearings
Optional Equipment: Magnetic Starter, Air-Cooled or Water-Cooled Aftercooler, Automatic Tank Drain (Pneumatic), Vibration Isolators, Low
Oil Level Monitor, Refrigerated Dryer, DPR (Microprocessed Duplex Programmable Relay) Control Panel, AEON™ Lubricant, Power
Monitor, Constant Speed Control, Dual Control to run either in start/stop or constant speed mode, NEMA 4 rated parts, Alternate Voltages and TEFC, ODPHE, TEFCHE Electric Motors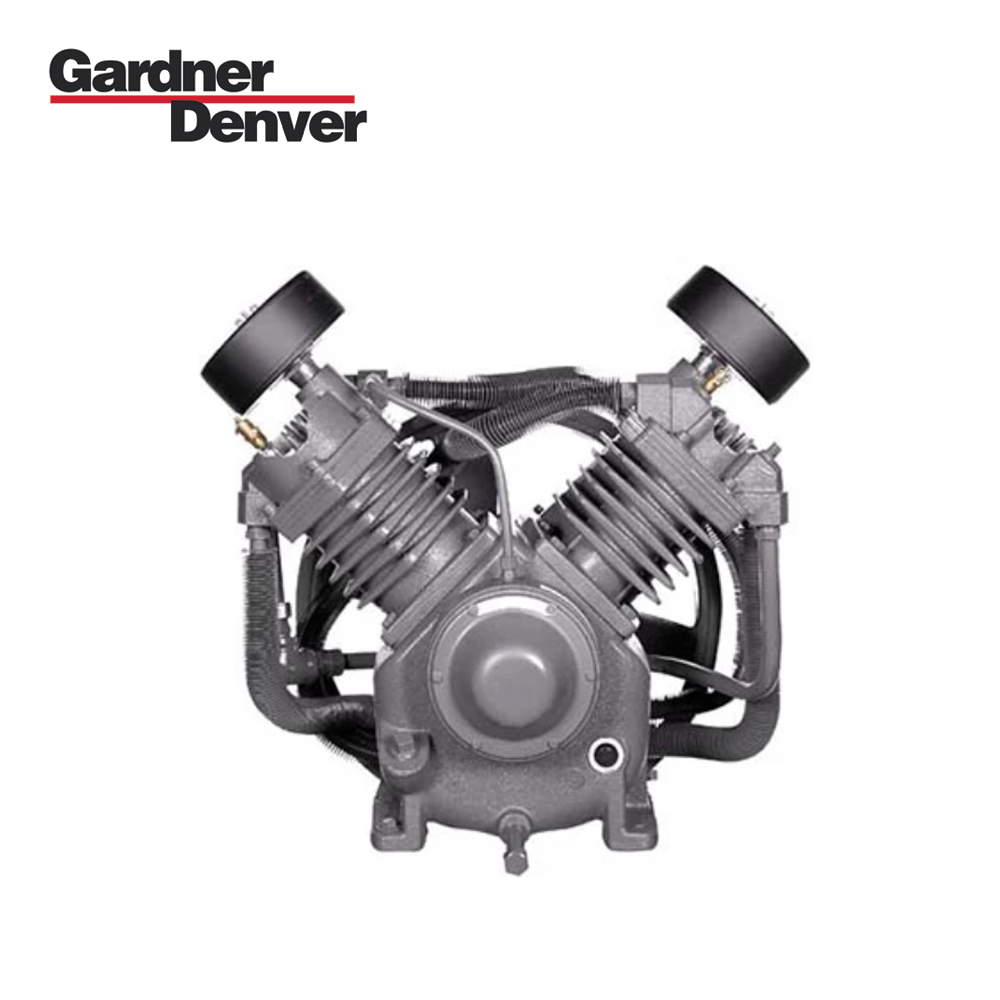 RV-SERIES (REED VALVE) RECIPROCATING COMPRESSOR​
The Reed Valve (RV) reciprocating compressor is engineered to deliver industrial-rated dependability at an affordable price. The RV line offers versatility, being configured either horizontally or vertically. The industrial compressor comes standard with an automatic start/stop feature. Each reciprocating compressor features a tank mount, durable cast-iron construction, an industrial grade filter, and silencer and alloy steel reed valves that are rated operate efficiently up to 175 psig.
Features
Automatic Start/Stop Operation
Magnetic Starters
NEMA-Rated Electric Motors
ASME Coded Receivers
0-300 PSIG Air-Pressure Gauge on Tank
Preset Pressure Switch
Available Voltages — 208/230/460/575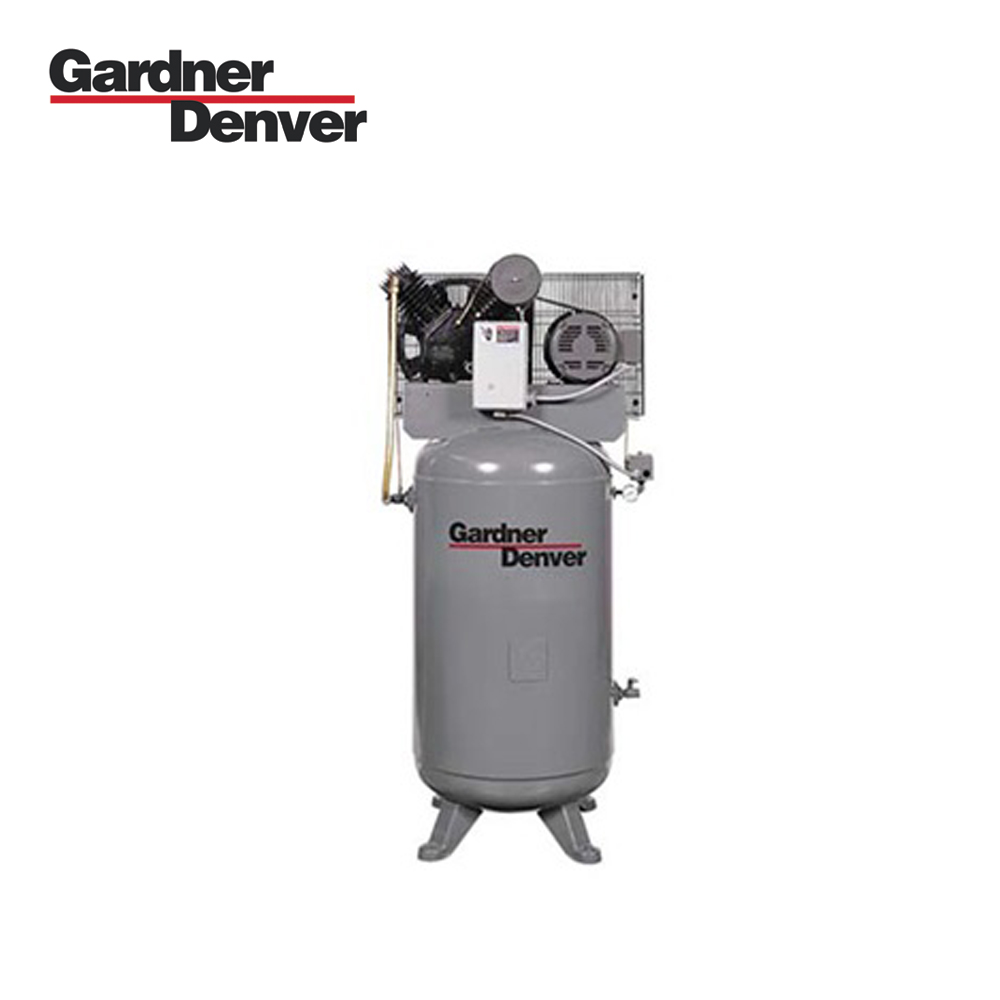 VP-SERIES RECIPROCATING COMPRESSOR
The Value Plus Line of reciprocating compressors was engineered for industrial applications that require a gas or electric driven compressor that reaches pressures up to 175 psig. Each one of these industrial air compressors were designed to be vertically or horizontally mounted. With top quality bearings, cast iron cylinders, and vibration free compressor pumps, this compressor package was built to withstand all types of working conditions. A low initial purchase price provides great value to this reciprocating compressor.
Features
5 – 7.5 HP
Up to 150 psig
15.2 – 22.7 cfm at 150 psig & 11.4 cfm at 125 psig
Single & Two-Stage Splash Lubricated
Electric Driven
Vertical Configuration
1-Year compressor pump warranty