mROY series metering pumps control chemical dosing with unmatched accuracy and reliability.  This dosing pump is durable, compact in design and enables metering of some of the harshest chemicals with repetitive steady-state accuracy at a ±1% range. It's not unusual to find mROY metering pumps still operating at design performance after 20 or more years of service.  That's because mROY maximum uptime pumps are comprised of a unique set of technical features that deliver consistent chemical injection performance with minimal maintenance requirements. For more information please call 02-168-3193-5 #109 or Line ID: @multiphase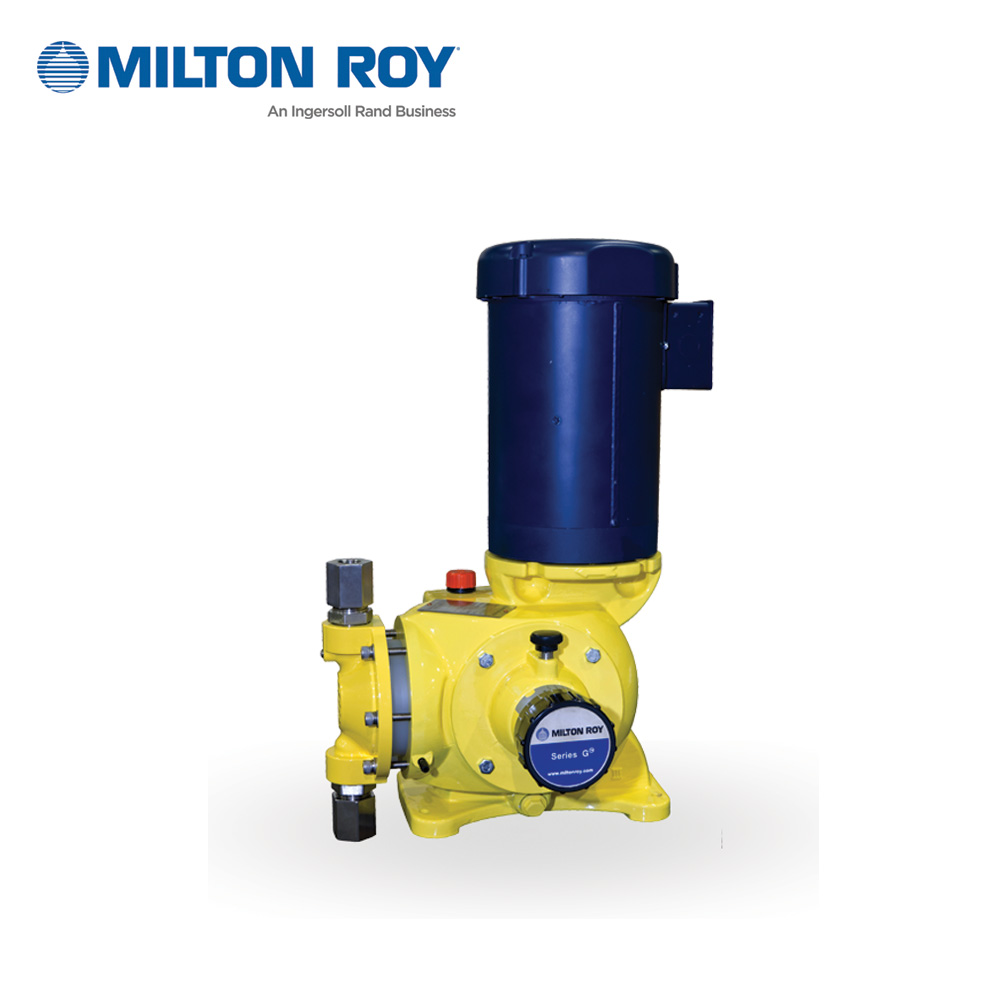 Chemical Pumps
mROY series metering pumps control chemical dosing with unmatched accuracy and reliability. This dosing pump is durable, compact in design and enables metering of some of the harshest chemicals with repetitive steady-state accuracy at a ±1% range. It's not unusual to find mROY metering pumps still operating at design performance after 20 or more years of service. That's because mROY maximum uptime pumps are comprised of a unique set of technical features that deliver consistent chemical injection performance with minimal maintenance requirements.
Specifications
Flow rate from 0.20 gph (0.8 l/hr) up to 87 gph (330 l/h) in simplex configuration, or 174 gph (660 l/h) in duplex configuration.
Low and high pressure performance from 100 psi (5 bar) up to 3000 psi (207 bar)
Accuracy 1.0% over a 10:1 turndown ratio
Hydraulically-balanced diaphragm with 96,000 hours design life
Three-year warranty
Benefits
Hydraulically balanced PTFE diaphragm, designed for 96,000 hours operating life, does not use seals and eliminates plunger packing maintenance.
Liquid end bleed system makes it easier to commission a new or a newly maintained pump.
Worm and pinion drive operating in an oil bath lubrication produces a smooth mechanical motion that eliminates wear and tear of mechanical lost motion designs and assures long gear and bearing life.
Dust-tight cast iron housing provides a rugged enclosure for operation in the harshest plant and field environments.
Micrometer capacity adjustment enables accurate output flow control.
Internal hydraulic pressure relief valve automatically protects the pump's hydraulic system from over pressure conditions.
High-performance, adjustable, cartridge-type check valves provide positive, repeatable sealing on every pump stroke.
The pump meets standards for API 675.
Applications
Injection of chemicals such as coagulants, biocides, disinfectants, polymers, softening agents, acids and bases for pH control, scale and corrosion inhibitors, oxygen scavengers, process additives, and many more for the following areas of application:
Municipal water & wastewater treatment
Industrial water & wastewater treatment
Chemical and petrochemical processing
Cooling towers and boilers
Oil and gas production
Pharmaceuticals production
Power generation
Agriculture