The claw pump has two contact free claw-shaped rotors, turning in opposite directions from one another. These rotors are timed and synchronized using a high-performance gearbox. As the rotors turn, the claw travels over the suction connection, pulling inlet gas into the compression chamber. As rotors continue to rotate, gas moves from the suction side to the pressure side. It is then compressed by the reduction of volume between the rotors. During this process, the discharge channel is temporarily sealed by the lower rotor. The gas then travels out the discharge channel once it reaches maximum compression. For more information, call 02-168-3193-5 #109 or add Line ID: @multiphase (available 24 hours a day)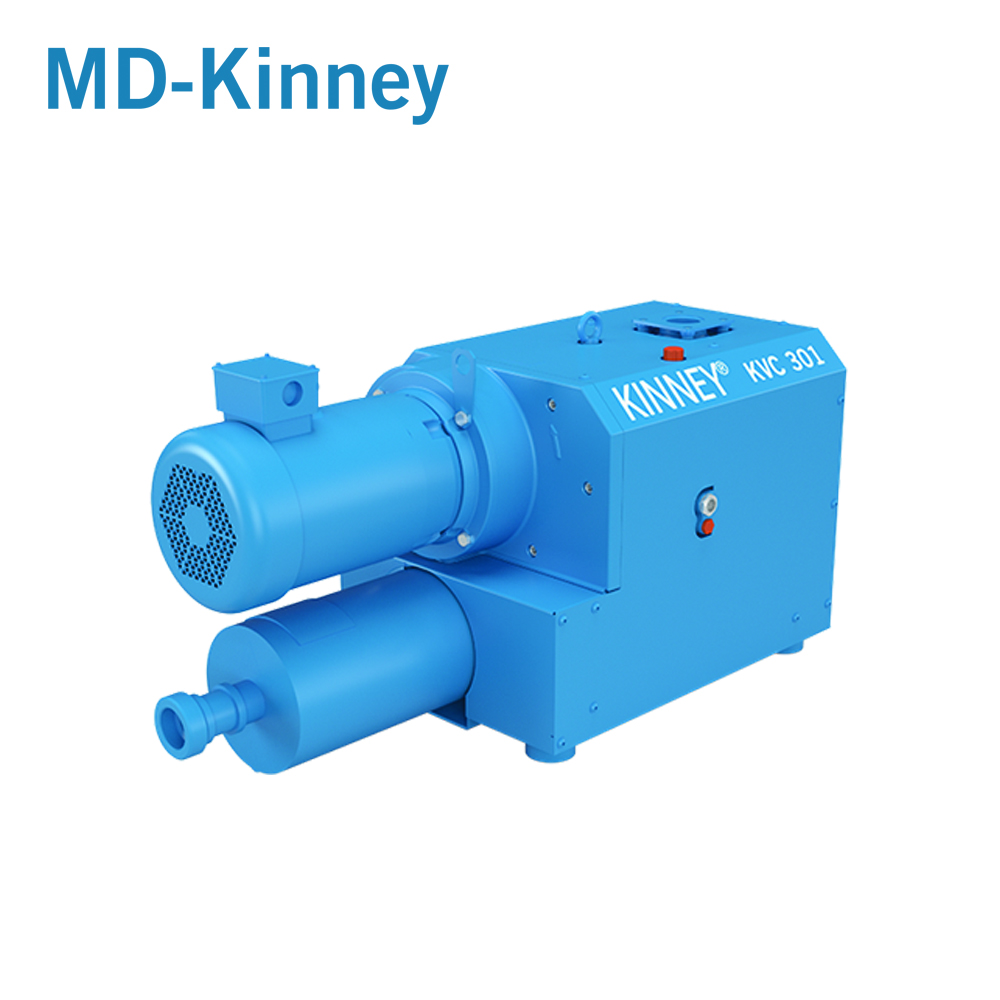 Dry Claw Vacuum Pump - KVC
The KVC Series claw pumps offer a compact footprint requiring a minimal amount of floor space. Contactless operation means minimal wearing parts and maintenance needed, and oil-free compression. The Kinney KVC dry claw pumps have a highly efficient design resulting in optimal CFM per HP. For applications: Pick & Place, CNC Router Tables, Industrial Vacuum, Central Vacuum Systems, Thermoforming, Food Packaging, Degasification
Features
NEMA Premium Motor: High-Efficiency NEMA framed motors included and are compatible with Variable Speed Drives.
Oil-Free Compression: No contaminants released into the discharge air or process. Providing peace of mind and worry-free maintenance.
Air Cooled: Pump Cooling Fan linked to the drive motor, as well as vent cover openings to keep the unit cool.
Fully Synchronized Gears: These gears are synchronized to ensure maximum efficiency in rotor movement. The gearbox is lubricated by Kinney KV-150 premium gear lubricant.
Lifting Eyebolt: Lifting eyebolt for easy transport and placement. The pumping unit can be lifted and removed from the pump assembly frame and easily repaired during service intervals.
Sealing System: Viton shaft seal and two labyrinth piston O-rings with atmospheric venting so the shaft seal does not become pressurized.
Small Footprint: Unique stacked design enables a reduction of required floor space.
Contactless Operation: Ensures minimal wear of parts within the pumping chamber, reducing maintenance downtime.
Ultimate Vacuum Down to 27″Hg: Ultimate Vacuum down to 27"Hg / 75 Torr to support your application.
Low Maintenance: Service/Maintenance intervals up to 20,000 hrs. This leads to low cost of ownership and nearly a "set & forget" product.
High Efficiency: Top of class CFM/HP efficiency and low power consumption due to our overall rotor and cylinder designs.
Horizontal Shaft: Optimized lubrication, better heat extraction, dissipation, and extended life of gears, bearings, and seals.
Low Noise: Integrated internal discharge silencer offers some of the lowest sound levels with this technology and combined with the Kinney base and enclosure design features, can achieve sound levels as low as 76 dB(A).