The range of Robuschi Rotary Lobe Blowers has been reinvented, focusing on delivering exacting customer requirements. We launch the new Robox blower unit concept, a cutting-edge solution that can accommodate rotary lobe and screw technologies to provide users with greater choice than ever before in helping meet their industrial air and gas needs.
With the new Robox, the difference between lobe and screw technology is reduced to just a few components. This makes it simpler than ever to change from one technology to another and embraces the ongoing shift in mindset from capital investment to total cost of ownership. Robuschi rotary lobe blowers are available at varying pressures above atmospheric up to 1,000 mbar (g) and for vacuum duties up to 100 mbar (a) along with maximum air flow of 25,000 m³/h.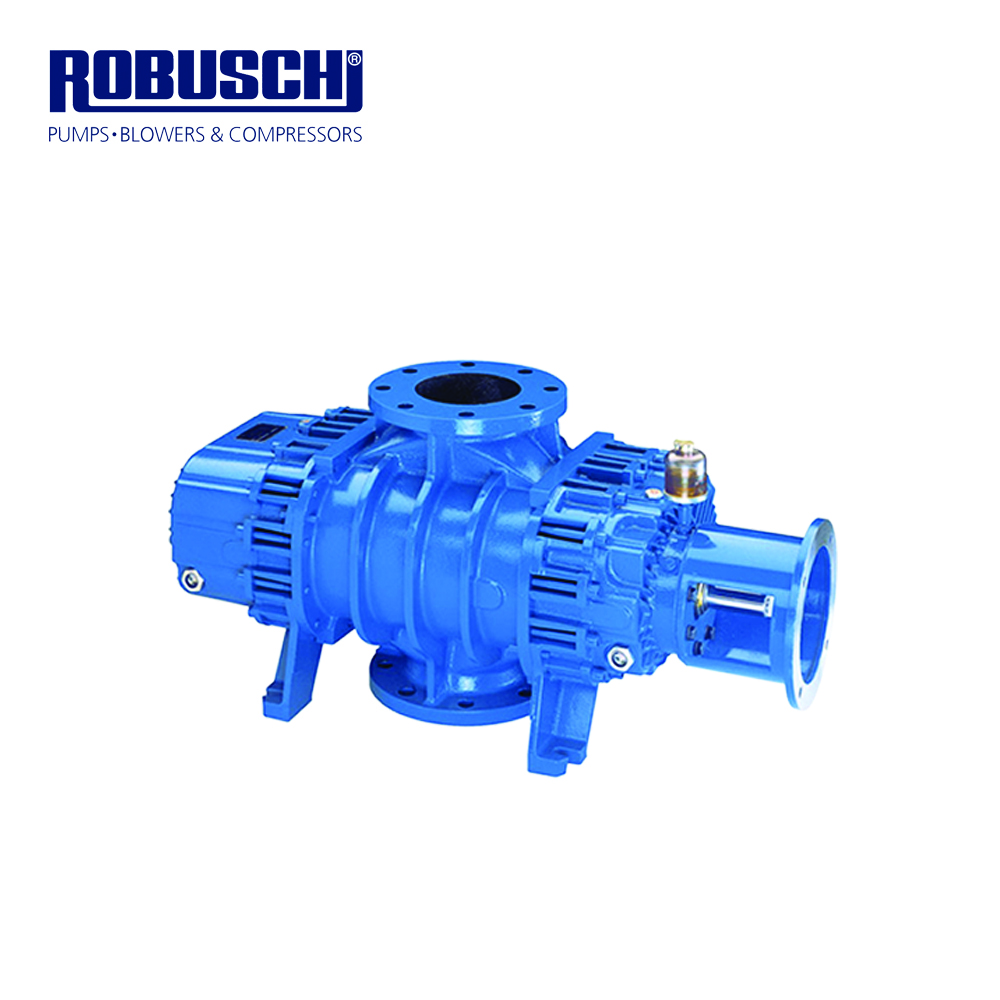 Robuschi design and manufacture high performance rotary tri lobe blowers that meet any working condition with superior efficiency, low noise emission, small footprint, minimum maintenance, competitive operating costs and long service life. The Tri Lobe Rotary Positive Displacement Blower, RBS, is an innovative tri lobe rotary blower equipped with a special low pulse system to reduce pressure pulsations.
The series of pumps come in a range of models capable of working at top level performance in just about any environment and able to meet just about any service test. When it comes to providing the right tri lobe blower to provide the working pressure that pumps oil free air at the required rates, our range of blowers are hard to beat. Your blower unit can also be customised to provide the exact requirements needed.
Features
Tri Lobe Blowers with pressure to 1,000 mbar (g), vacuum to 500 mbar (a) & air flow to 25,000 m³/h
Innovative Positive Displacement Rotary Lobe Blowers for any application
Superior efficiency, low noise emissions, small footprint, minimum maintenance and long service life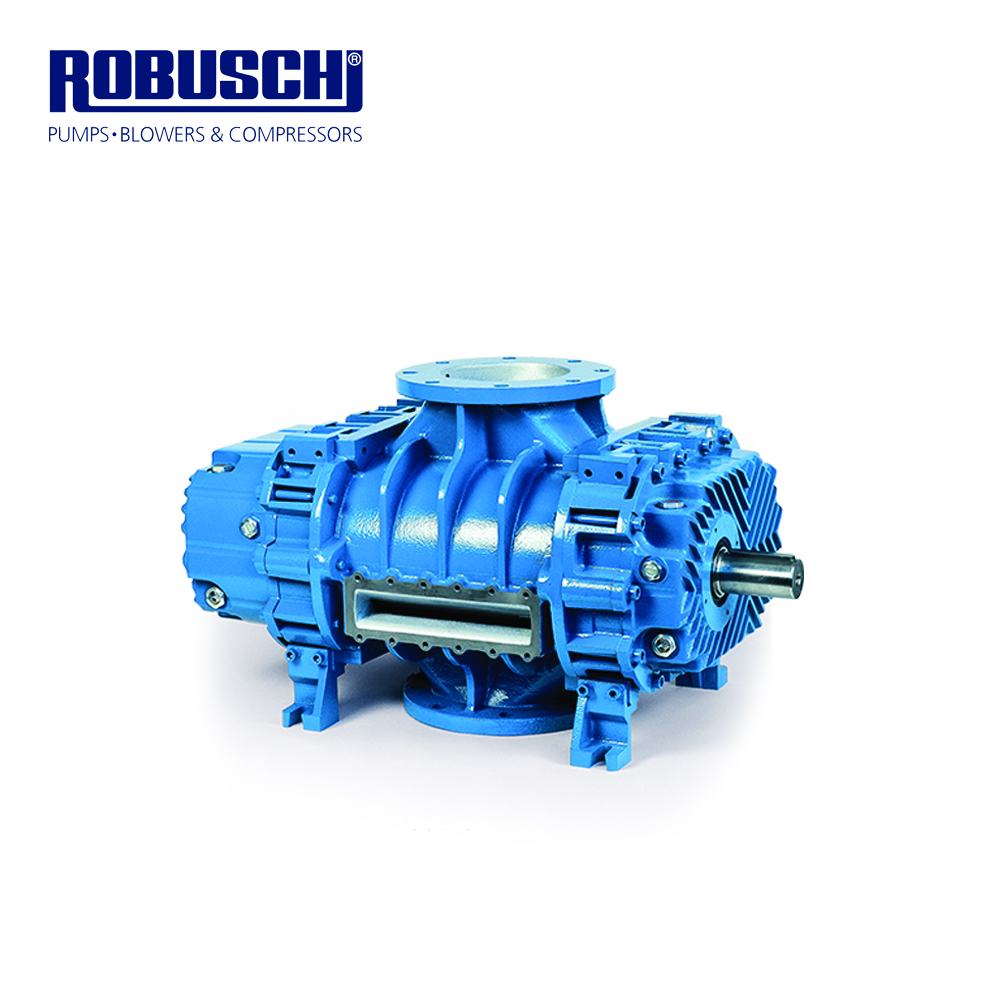 RB-DV TRI LOBE VACUUM PUMPS
The RB-DV vacuum pump series consists of 3 lobe rotary blower used as exhauster, without overheating thanks to a Robuschi patented atmospheric air injection device. It can reach vacuum levels of up to 93% on a dead head – 28″ Hg without the need to water inject or heat exchange.
Vacuum up to 100 mbar(a)
Capacity up to 10,500 m³/h
Features
Maximum vacuum 93% – 28"Hg on a dead head
Gases and vapours can be handled
Patented and unique air inlet design
Cool operating temperatures (no overheating on dead head)
Low maintenance thanks to its robustness and heavy duty operation.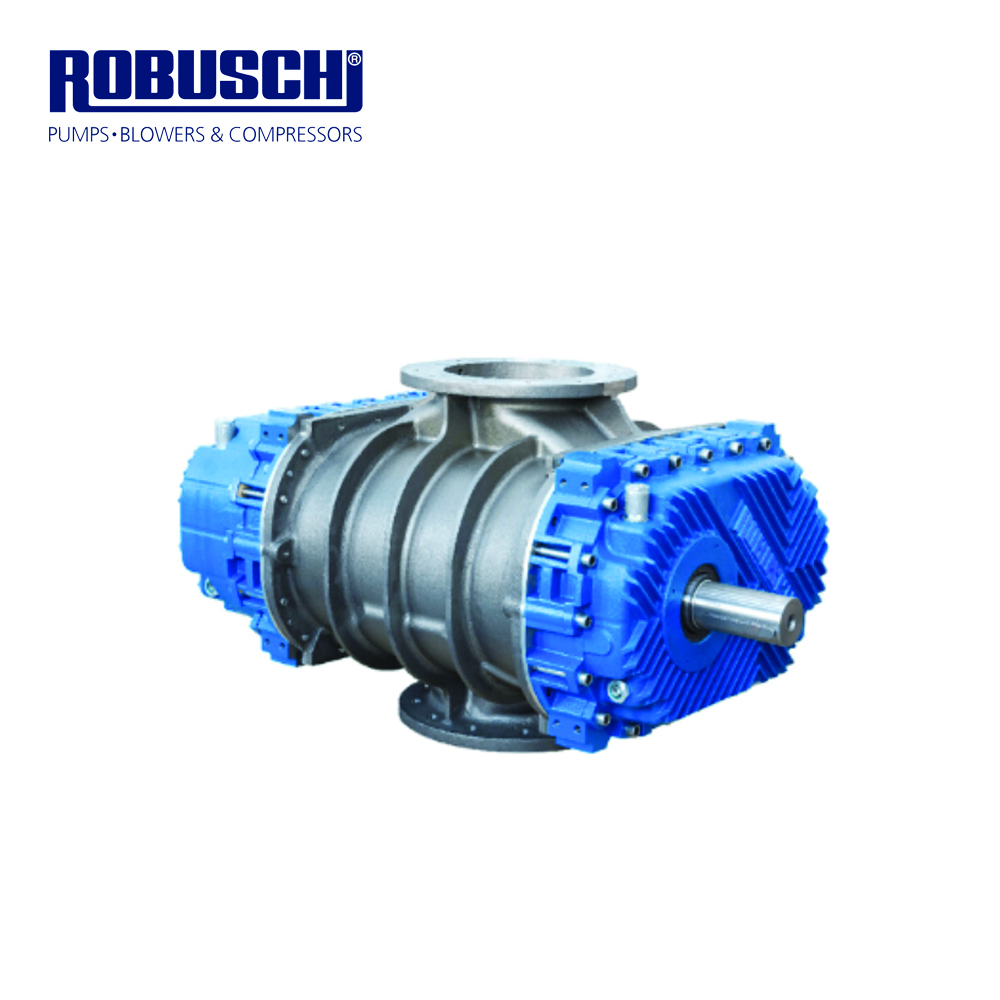 Robuschi can offer customized and optimised blower solutions for mechanical vapour recompression system (MVR). By recycling waste heat from the evaporation process, a well designed MVR system will improve efficiency and save money. The RBS Steam range can reach differential pressure up to 1,000 mbar(g) and vacuum up to 500 mbar(a) with a maximum flow of 13,859 m³/h.
Features
Compact seal, combining one seal for the vapour side and one for the oil side.
Double mechanical seal to segregate the rotor chamber from oil sumps.
Soft packing seal, also used to segregate the rotor chamber from oil sumps.
Special sealing version (PRV) with isolated oil sumps and vapour chamber to avoid any accidental contact with oil and vapour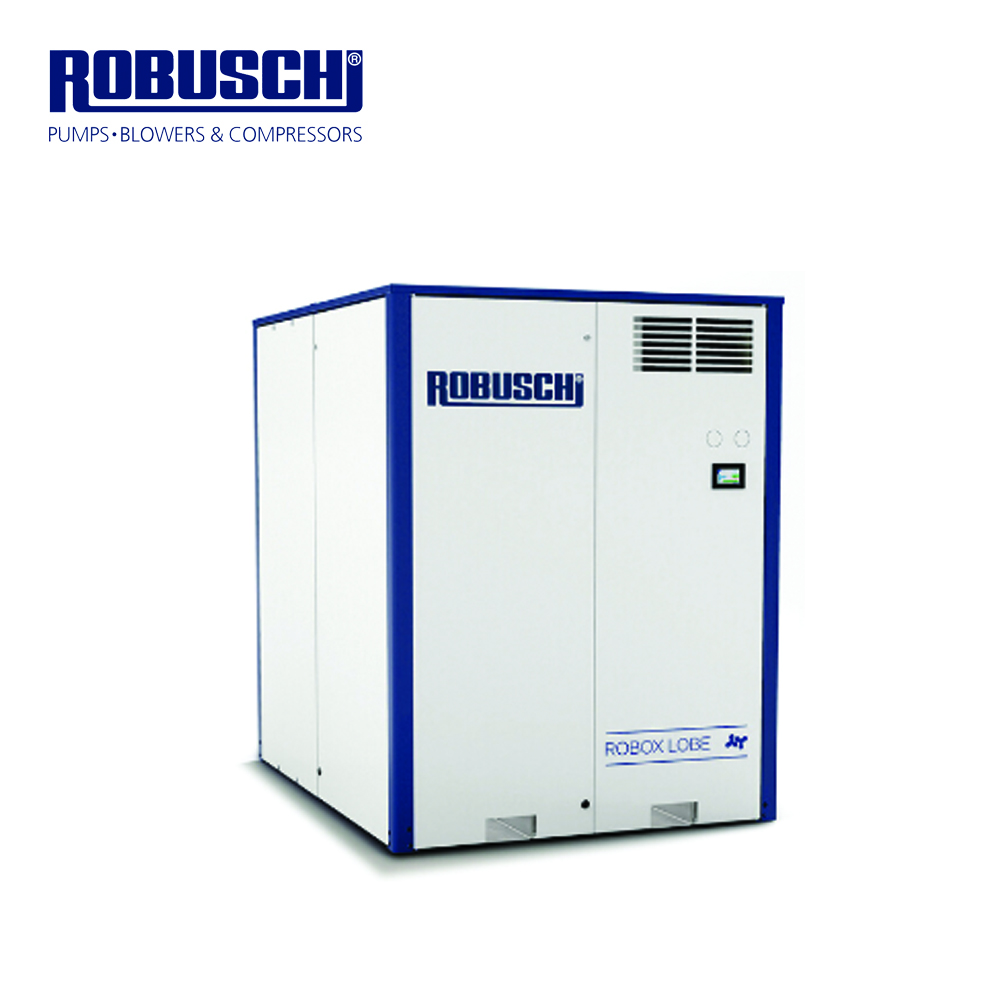 The new Robox blower unit design allows you to fit either a lobe or a screw airend into our engineered Robox enclosure. To accommodate this innovation, our teams performed a complete package redesign. You can call it thinking outside the box to create our best Robox yet.
The Robox Lobe is able to reach up to 1,000 mbar(g) and vacuum up to 500 mbar(a) with a maximum capacity of 10,500 m³/h. Unique design, best in class footprint, low noise, easy installation, easy to service and maintain access throughout the range.
Features
Unique Design, Best-in-class Footprint
Thanks to its exclusive features, the new Robox Lobe blower unit has compact dimensions with the possibility of side-by-side installation. It is easy to be installed with no requirements for ducting. The Robox Lobe blower's compact dimensions will optimise your floor space usage.
One Package Two Technologies
Take advantage of the one solution for both lobe and screw blower technologies. Whether revamping plants, or your processes, you can review and compare each technology's benefits for your operation before you commit to buy.
Low Noise
Low noise emissions are ensured by our new discharge and suction silencer design. In addition, canopy enhancements provide noise reduction thanks to special sound proofing material and upgraded panel thickness. In addition, the enclosure air inlet and outlet ducts are muzzled with a lined single-chamber plenum and lined bends.
Easy Installation
Save time and money thanks to the easy and flexible installation of the new Robox Lobe blower. Handle the Robox with ease utilizing the rigid base which has dedicated channels for forklifts. Place it on any even surface, with no need for special foundations. Thanks to its compact design, the Robox can be quickly and easily integrated into your existing system.
Accessible Service and Maintenance
The design of the New Robox package ensures that the service points are easily accessible. To help you see inside, the enclosure side doors are hinged and removable.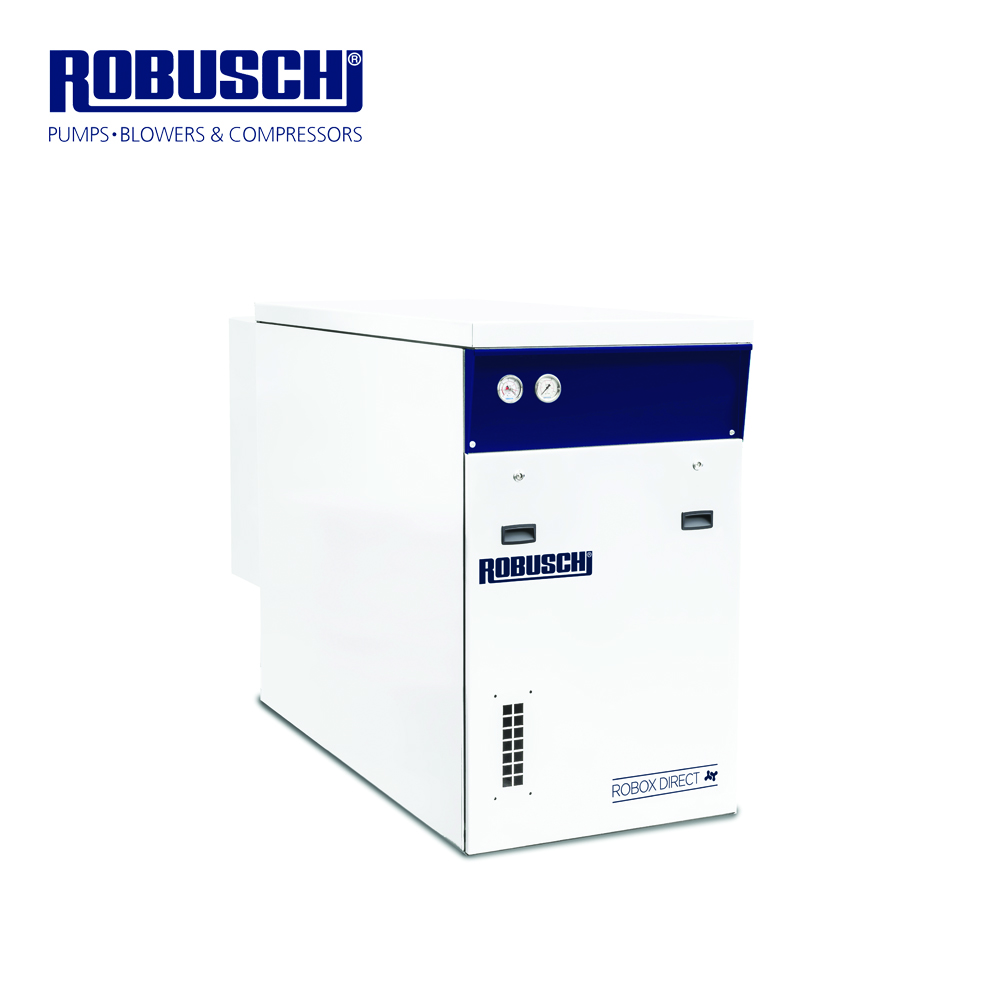 Pressure up to 1,000 mbar (g)
Capacity up to 700 m³/h
Features
Fewer components
Increased reliability and ease of installation.
Efficient
The total efficiency is improved by 8% compared to a traditional lobe belt transmission version.
Modular design
Robox is stackable enabling installation on scaffold structures to reduce space constraints and blower room dimensions.
Reduced noise levels
Improved sound enclosure, complete close base and different concept of inside silencer provide noise level reduction, granting low noise levels of <75>
Small footprint
The compact design requires on average, 33% less floor space than a conventional PD blower package.
Direct coupling
Prevents transmission efficiency losses and also reduces costs associated with servicing.
Cooling air-out circulationCooling air-out circulation
The improved cooling air outlet allows extracting air, granting better ventilation of the unit also with critical environmental conditions.
Ease of accessCooling air-out circulation
The improved cooling air outlet allows extracting air, granting better ventilation of the unit also with critical environmental conditions.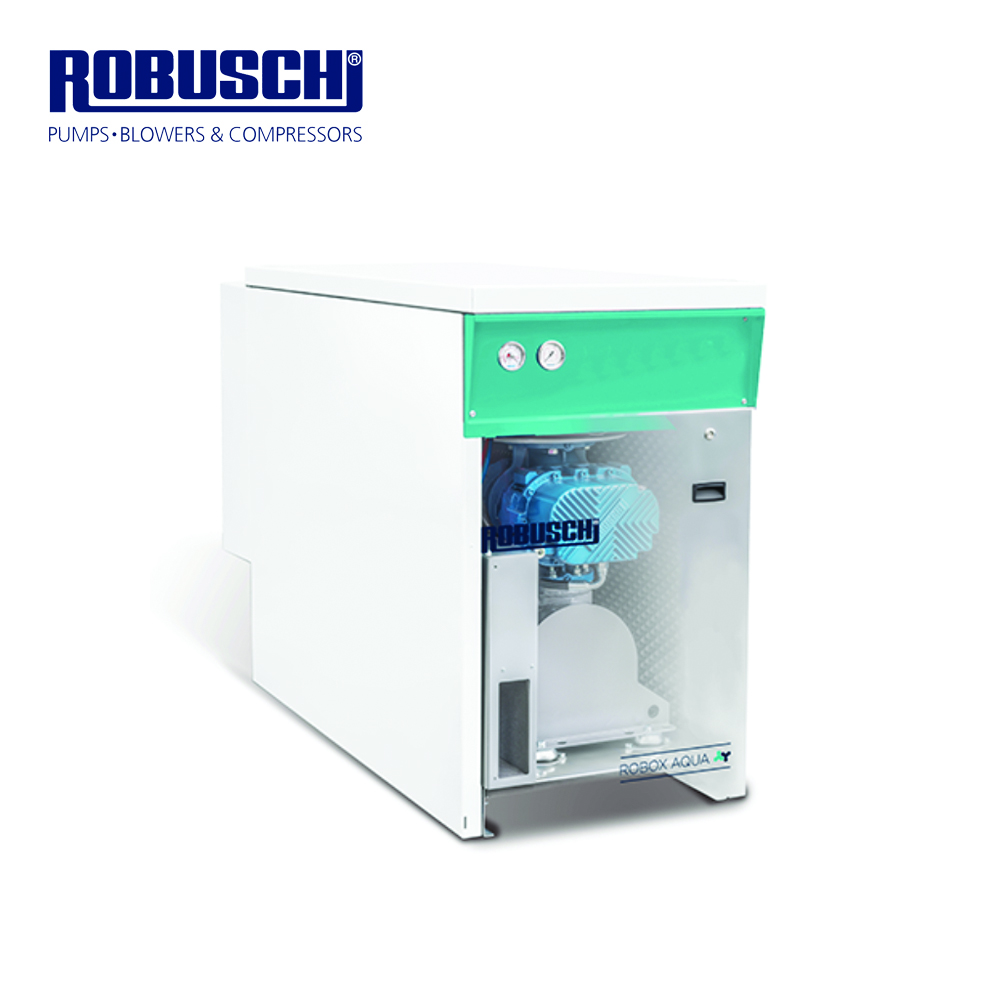 Features
Extremely compact
The package offers a reduced footprint in order to match the limited space available on barges.
Improved efficiency
Thanks its new layout, the Robox AQUA is able to supply higher flow rates compared to the size (+50%).
Low noise
Intelligent noise reduction solution guarantees noise levels of below 80 dB(A) with sound enclosure.
Easy installation
The new rotary lobe blower package has fewer components and is therefore easier to install – especially when available space is rare.
Long uptime and low service costs
The new compact layout with direct coupling offers minimum maintenance and long service life.
Modular and stackable design
Robox AQUA is stackable enabling installation on scaffold structures to reduce space constraints.