Portable compressed air dryers are available to purchase or rent for a wide range of applications. These applications include rental fleets, plant air system back-up, mobile abrasive blasting and painting, pipeline dehydration, and really any compressed air application requiring a -40 pressure dew point. With so many portable dryer options available, it is important to know you are buying or renting the right sized portable dryer, and using the right components such as afterfilters and desiccants, based on the application. Van Air Systems, offers four main portable dryers that are used for drying compressed air and natural gas. Each one has a different capacity and designed function, but all come equipped with skids making them easy to be maneuvered using a forklift. For more information, call 02-168-3193-5 #109 or add Line ID: @multiphase (available 24 hours a day)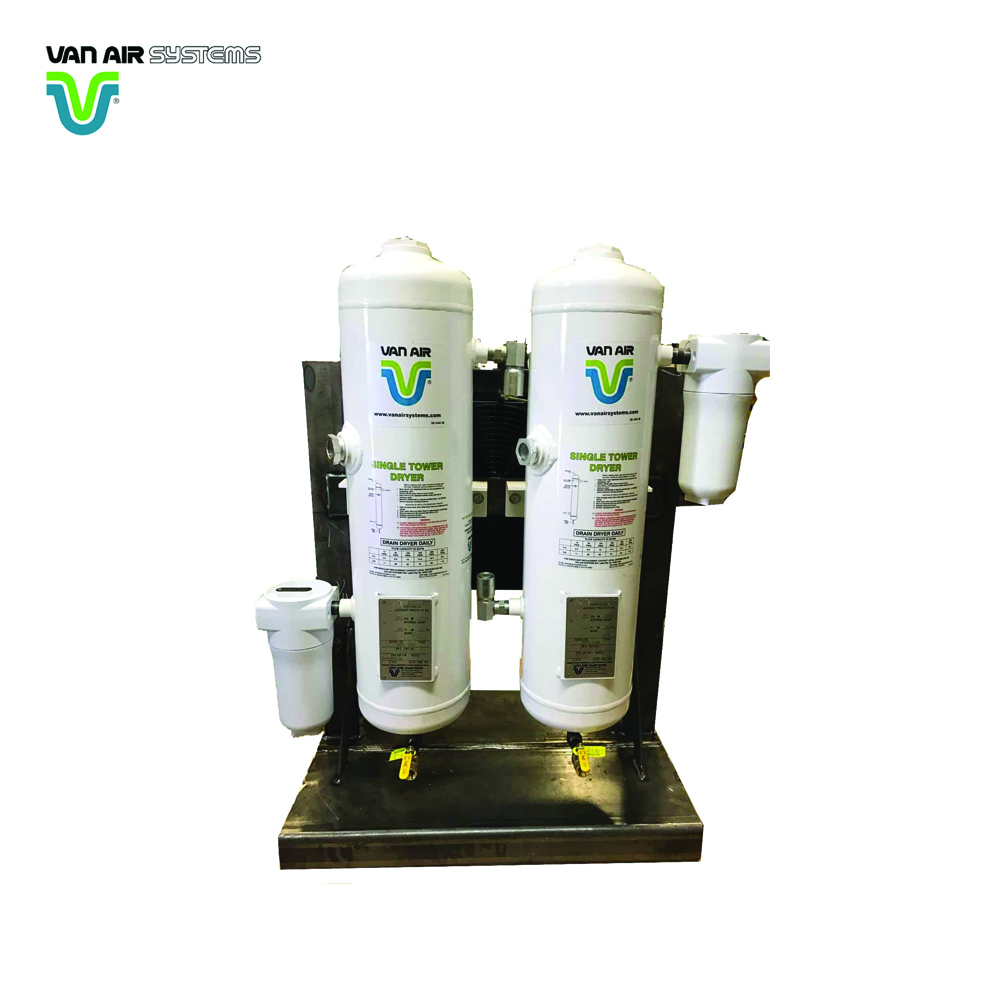 The Dry Pak Duo was design that came from the common question we hear, " Can I get the air even dryer?". The answer is Yes! The Dry Pak Duo has the same components as the Blast Pak PRO, but with another drying level. This unit was designed for applications that require lower dew points than what our Dry-O-Lite desiccant can provide. Using two deliquescent dryer vessels in a series enables you to achieve a lower dew point. By using Dry-O-Lite desiccant in the first dryer vessel it will knock out a majority of the moisture. This pre-dryer will also reduce the consumption of 10BF which is in the second dryer. At 100PSIG and inlet temperatures up to 250°F, the Dry Pak Pro Duo can achieve pressure dewpoints down to 29°F using 10BF desiccant.
Features & Benefits
Air Cooled Aftercooler with Air Motor
50 SCFM Max Flow Rating
No Moving Parts
Low Dew Point
Applications
Painting
Sandblasting
Shipbuilding
Protecting air tools
Instrument air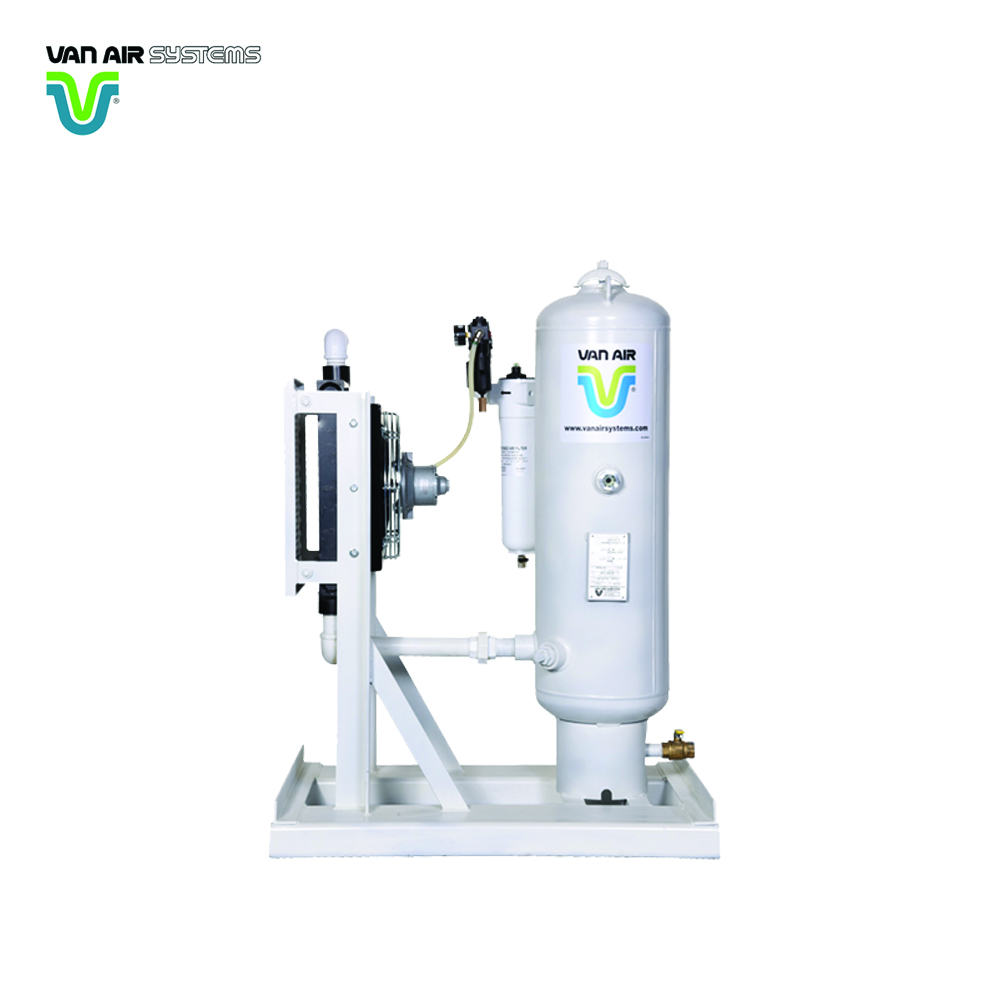 The Dry Pak PRO is a portable compressed air system designed for flows up to 185 SCFM. With no power requirements this system can be used virtually anywhere. This portable skid mounted system consists of a D12 Deliquescent Dryer, F200-265 Filter, aftercooler with air motor, rock guard, and a regulator lubricator. The DryPak 150 is a low cost portable air drying system is perfect for small jobs where portability and dry air matter.
Features & Benefits
10 year vessel warranty
185 SCFM @ 125 PSIG
250 PSIG maximum working pressure
Free initial fill of DRY-O-LITE desiccant
Applications
Ideal for portable 185 CFM diesel compressors
Air tools
Painting and sand blasting
Ship building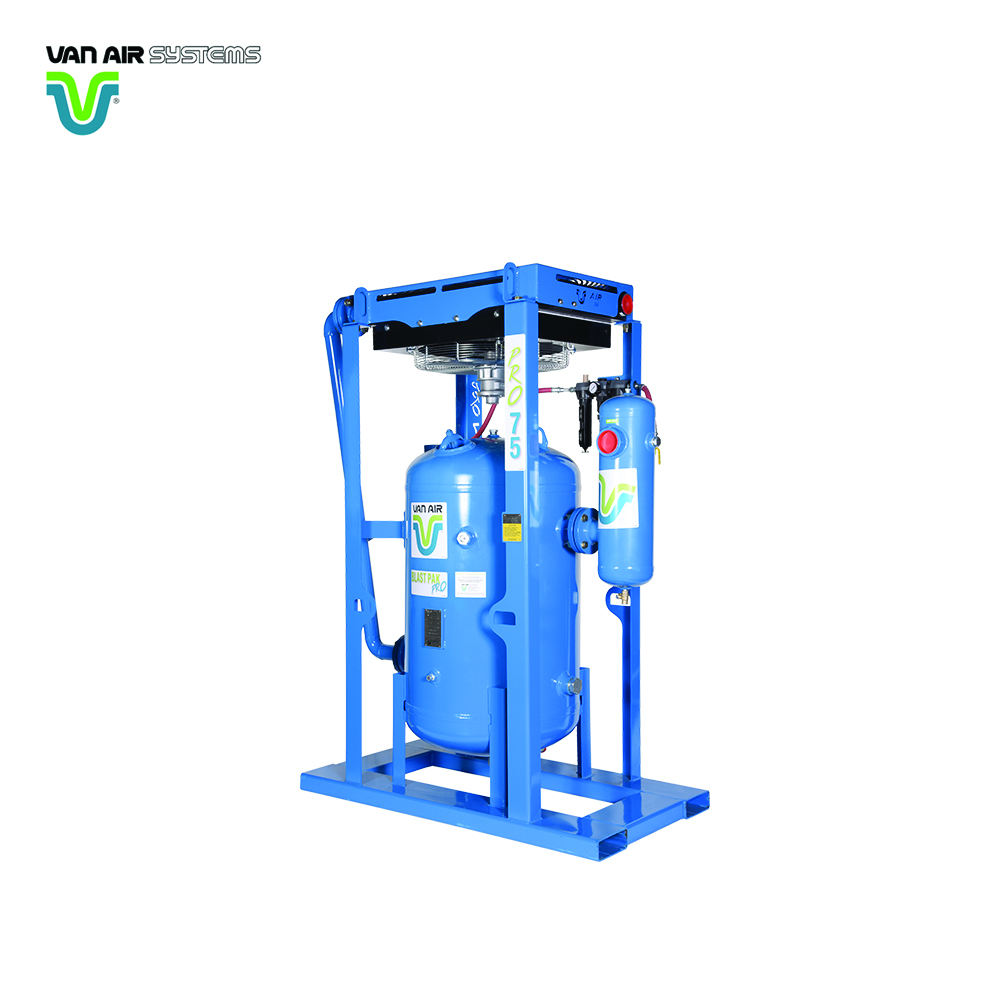 The Blast Pak PRO compressed air system, is a single tower deliquescent drying package with conveniently integrated peripherals that are pre-assembled and welded to a forklift skid, allowing maximum portability for mobile drying applications. These compressed air systems can be easily lifted on the back of a truck or trailer and moved about within a plant or worksite. The Blast Pak PRO is an ideal solution for mobile blasting contractors. Wet compressed air clogs blasting pots and compromise the quality of the blasted substrate by putting moisture back on the surface. This moisture then flashes to rust, necessitating costly re-work. With an integrated aftercooler, the Blast Pak PRO first cools hot and wet air discharged from the compressor. Cooling forces a substantial quantity of entrained moisture to condense. But even after exiting the aftercooler, the air is still saturated with vapor (100% relative humidity). Next, the compressed air passes through the drying vessel, which contains a specially formulated Van Air desiccant called Dry-O-Lite. This desiccant cuts the humidity of the air roughly in half. Finally, air flows through an after-filter to trap any fine particulate matter suspended in the airflow.
Features & Benefits
No electricity required, plug-n-play design
Two step interior and exterior paint for longer vessel life
F200 filter and muffler to eliminate oil residue from air motor
Removable aftercooler assembly for ease of repair / replacement
3/4″ Auxiliary air connection before the dryer
Lifting lugs and steel forklift skid for portability
Tie downs to secure units for transportation
Two sight windows for desiccant viewing
Free initial fill of DRY-O-LITE desiccant included and shipped separately
15 years prorated warranty on Dryer Pressure vessel (1st 5 years Full 100% warranty)
Applications
Mobile abrasive blasting
Painting
Rail yards
Rentals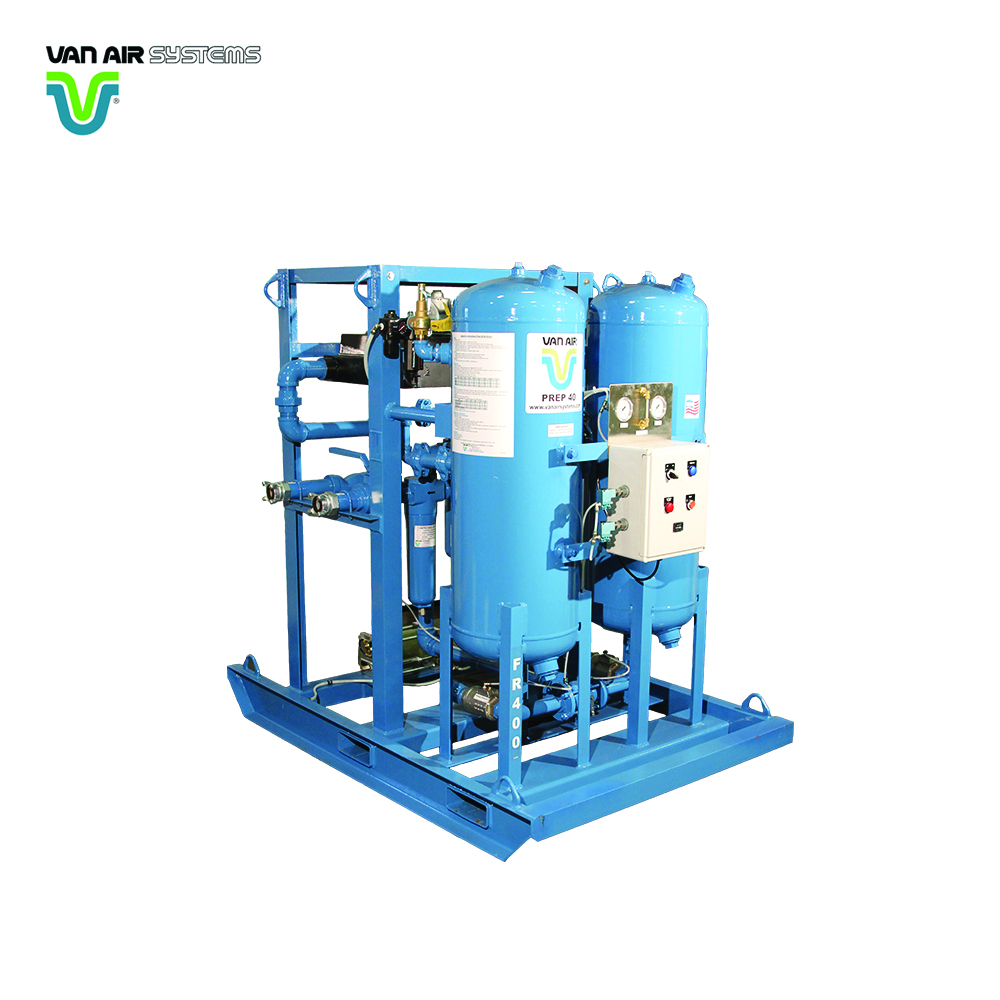 Prep 40 compressed air dryers have been designed for the rugged demands of the equipment rental industry. Heavy duty structural steel frame work protects key components. The skid is "sled style" allowing it to be easily dragged and pushed about a job site. These dryer skids are as close to plug-n-play as equipment gets. Just hook up compressed air hoses, supply 115v power, and the dryer is ready to begin working. The Prep 40 will deliver compressed air with a pressure dew point of -40, residual oil content of .008 ppm, and removal of particulates greater than 1 micron. The Prep 40 is ideal for supplying back-up compressed air treatment to a wide range of industrial facilities that have stringent air quality requirements. The Prep 40 is also ideal for meeting air quality standards in pipeline hydrostatic testing, pigging, and dehydration operations.
Features & Benefits
Completely portable package
Pneumatic drain valve included
Simple to install
Delivers -40°F Dewpoint
Lifting lugs and steel forklift skid for portability
Applications
Equipment rental applications
Abrasive blasting & painting
Plant shutdowns
Disaster planning
Pipeline dehydration & inspection