At NOV Mono, we pride ourselves on fostering innovation within the Group and providing our customers with quicker, easier and more cost-effective solutions. EZstrip™ is one such innovation which has taken the PC pump industry by storm. EZstrip™ is a family of products, patented and manufactured by NOV Mono. Launched in 2009, EZstrip™ has revolutionised the way in which progressing cavity pumps and associated products are maintained. The main feature of the EZstrip™ is the ability to "Maintain-In-Place" (MIP), making a day-long maintenance operation of a PC pump into a 30 minute job. For more information, call 02-168-3193-5 #109 or add Line ID: @multiphase (available 24 hours a day)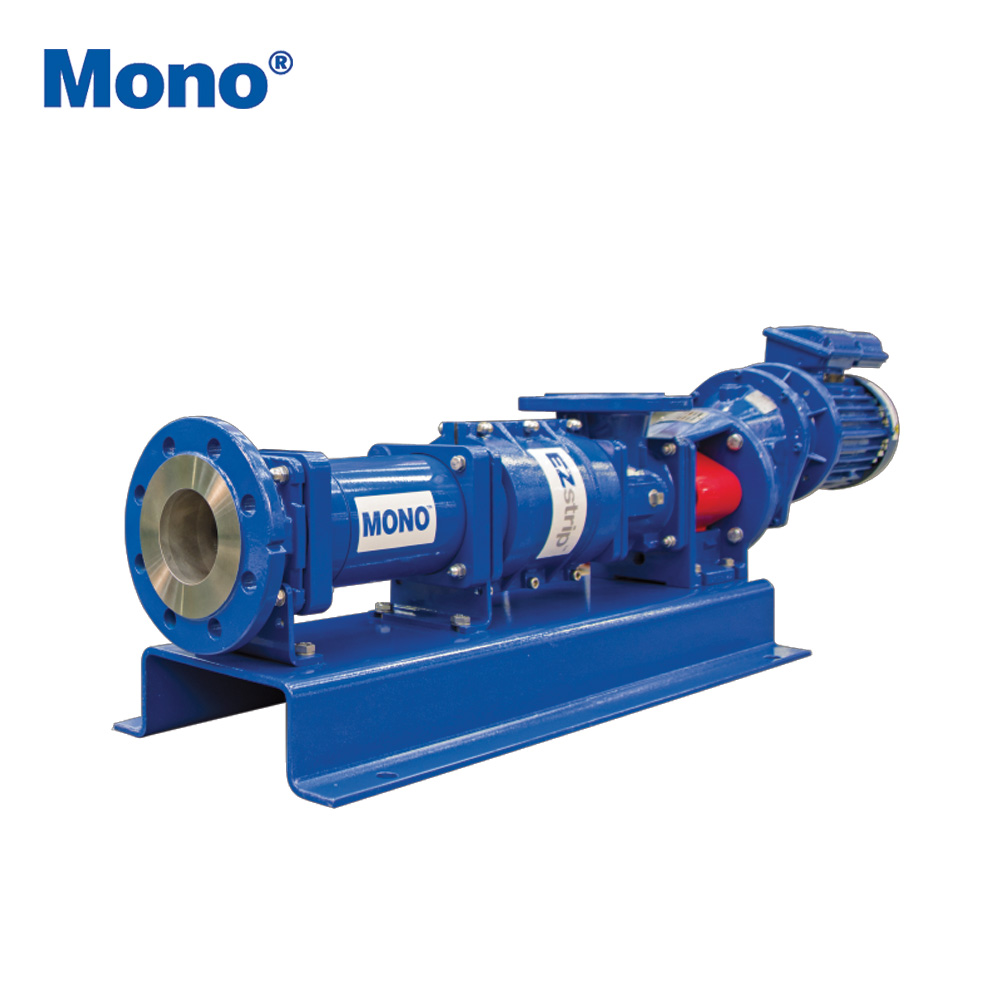 For the newest iteration of our EZstrip™ maintain-in-place progressing cavity pump we designed new features to make maintenance even more user friendly than before. In addition to our patented split suction chamber we've removed the tie bars, designed a new positive torque split coupling rod, and added in a captive support foot. That means faster, easier maintenance for you. The EZstrip has been specifically designed to provide a quick and easy way to disassemble, de-rag and maintain a PC pump in-situ, eliminating the costly maintenance and down time that servicing can often cause.
Features
Capacity: up to 225 m³/hr (991 US gpm)
Pressure: up to 12 bar (174 psi)
Temperature: -10°C to 100°C (14°F up to 212°F)
Benefits
Quickly and safely remove the full drive train including rotor, stator, shaft, rod, and seal in minutes without physical electrical disconnection.
EZstrip Access covers – provide 360° access to coupling rod and drive shaft for easy inspection.
The smooth profile Positive Torque Split Coupling Rod alleviates potential ragging issues, and reduces maintenance and assembly times.
Tie-bar-free design. EZstator clamps lock the stator securely into place. This further reduces stator removal time by over 50% and improves the safety of common maintenance operations.
Captive support foot. The fixed support foot and stator clamp assembly further aids rotor and stator removal.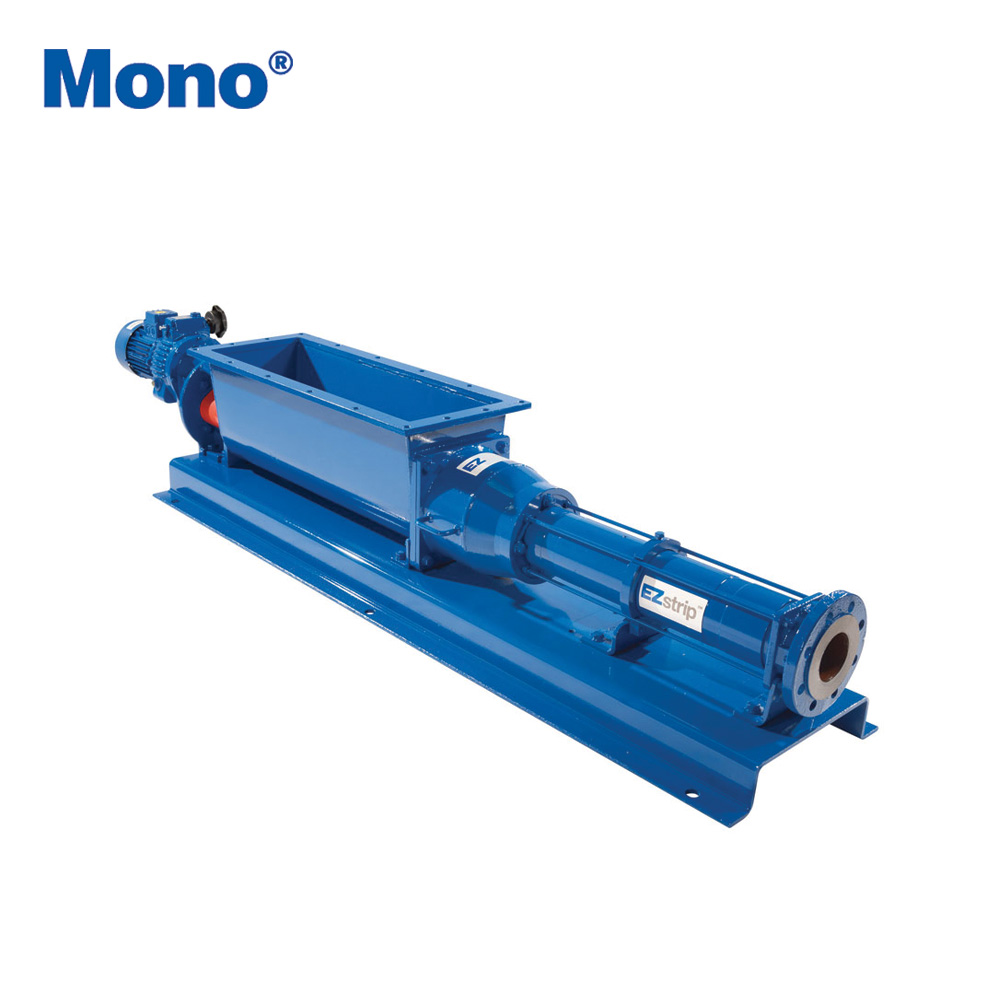 Following the successful launch of the revolutionary EZstrip progressing cavity pump, Mono has developed the EZstrip Cake Pump to make the process of maintaining a cake pump easy. The EZstrip cake pump features a specially designed feed chamber which is easily disconnected allowing access to the rotor and screw conveyor assembly.  The rotor can then be separated from the conveyor allowing removal of the rotor and stator while in-situ, without disconnecting suction and delivery pipework. This process can take as little as 6 minutes.  Imagine the time savings you could achieve when maintaining an EZstrip cake pump!
Features
Capacity: up to 49 m³/hr
Pressure: up to 24 bar
Temperature: -10°C to 100°C
Advantages
Quick and easy to maintain in place
Reduced maintenance downtime and labour savings
No need to disconnect suction and discharge pipework, even when removing the screw conveyor
Detachable feed chamber supplied as standard
Side inlet port allows addition of thin sludge for blending and can also be used for draining the pump
Large auger design as standard – ribbon auger available to assist blending/conveying of product into the pump
Option of a separate bridge breaker mounted directly on top of the hopper to ensure optimum filling of the auger feed screw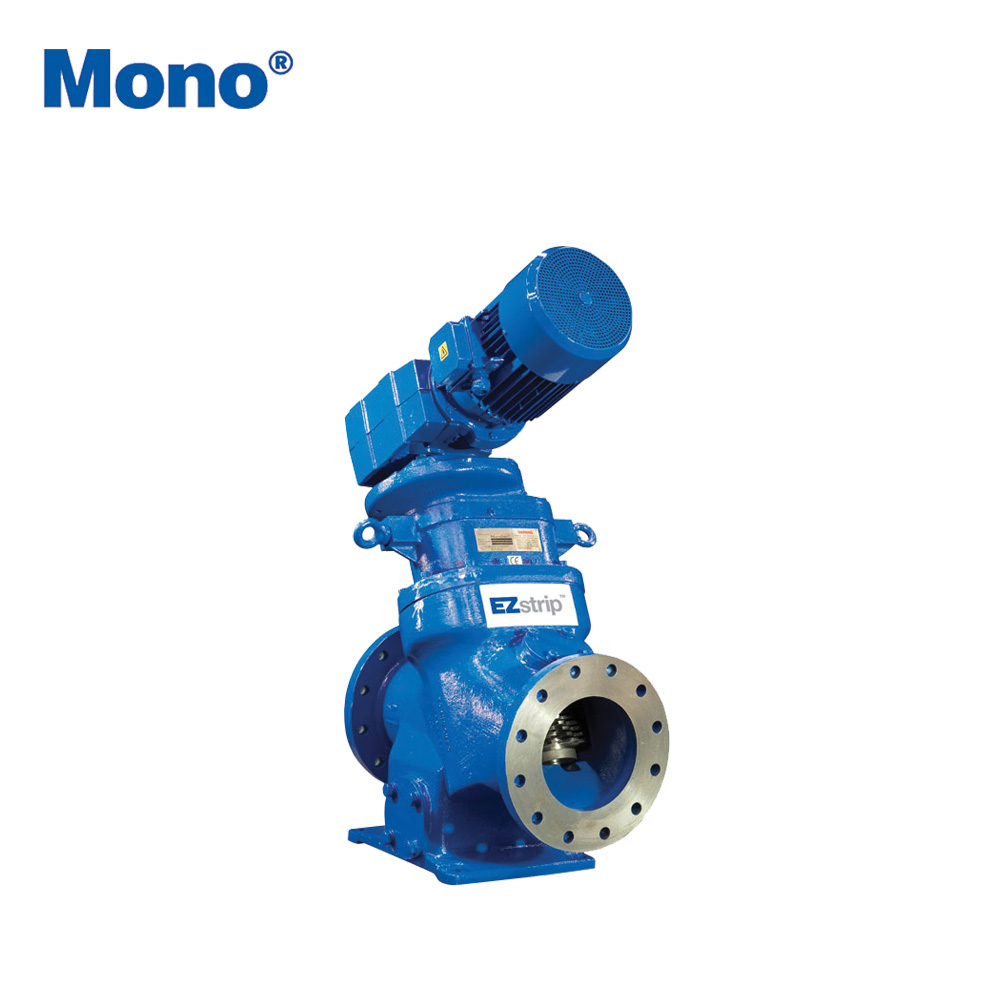 A new addition to the EZstrip™ family of products, the CT201 TR Muncher® has been designed specifically to meet on-site tanker discharge requirements and sludge/fat processing, for maceration of solids within the flow and protection of downstream equipment from blockages. Installation of the EZstrip™ CT201 TR Muncher® is simple, with in-line flanges or the option of tanker coupling connections. Quick release inspection covers also allow in-situ replacement of the cutters, which can be specified to either 8.0mm, 5.5mm and 3.0mm thickness, to match the optimum particle size for specific process requirements.
Features
Capacity: up to 440 m³/hr on raw sewage
Capacity: up to 440 m³/hr on 4% sludge
Advantages
Full access port allowing ease of inspection (CT201).
Maintain in place of the cutters and spacers (CT201).
Easily removed cutter stack.
No special tools required.
Reduced maintenance downtime.
Increased labour savings.
No need to disconnect pipework.
Operational parameters are unaffected.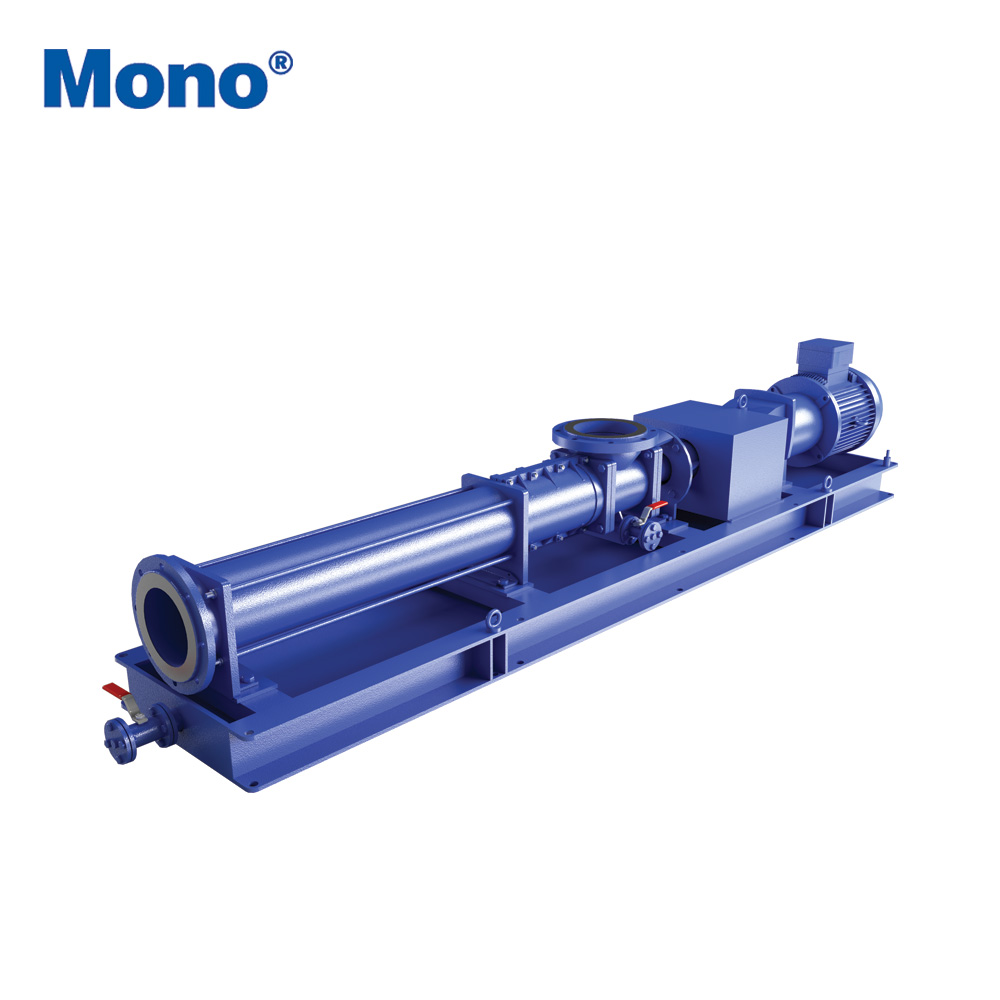 The new API 676 EZstrip™ pumps provide a practical, reliable and proven solution which helps prevent emulsification, while also resisting the effects of abrasion without gas locking. This makes them ideal for many types of oil, gas and mud handling duties in drilling, exploration, production, processing and separation operations. The new pumps feature a long-coupled, full-size base frame design that incorporates a drip tray in accordance with the API 676 Third edition. Supplied complete with a mechanical seal to API 682 Category 1, the pumps also incorporate Mono's revolutionary EZstrip technology which provides a quick and easy way to disassemble and fully maintain them in-situ. The self-priming pumps can be manufactured from different materials to suit different applications, ranging from mild and stainless steel through to traceable and NACE-certified duplex steels.
Features
Capacity: up to 400 m³/hr
Pressure: up to 250 bar (3626 psi)
Temperature: -10°C to 100°C
Advantages
Long coupled cold service mild steel extended base, c/w drip tray to API676
Ball valves flanged ASME B16.5 
Spacer type to AGMA 9000 Class 9
Single or double mechanical seal to API 682 Category 1
Seal plan to suit application requirements
Gearbox to AGMA6009/6010
Motor – safe or hazardous area
Reduced maintenance downtime and labour savings