Choosing the right accessories will improve maintenance programs, extend changeout intervals for filter elements, and prolong the life of your equipment. From our high-quality foam prefilters and gauges to our durable replacement fasteners, O-rings, and gaskets, all of Solberg's accessories are designed to meet a variety of standards and original equipment specifications. Tell us what you need for your filtration system – we'll point you toward the right accessory. For more information, call 02-168-3193-5 #109 or add Line ID: @multiphase (available 24 hours a day)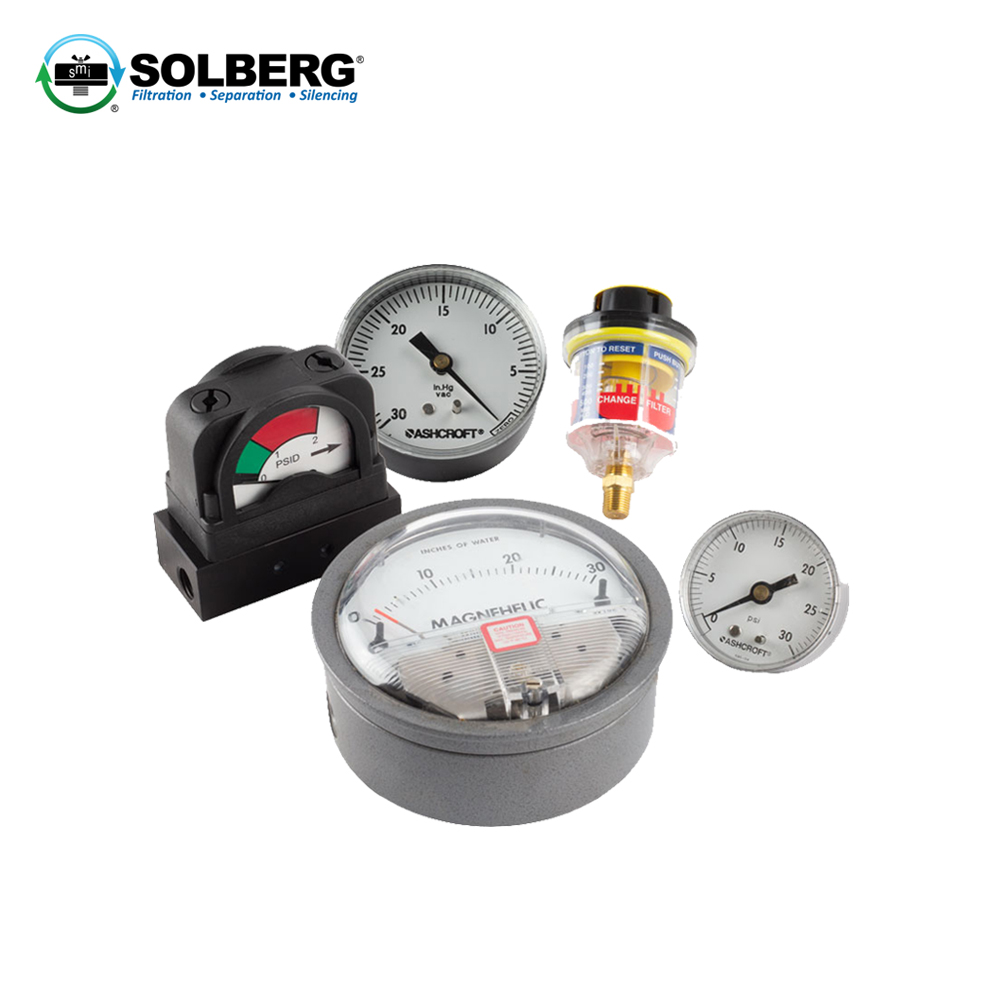 Our Pop Up style pressure drop gauge shows the amount of filter element restriction and how much life the element has left. This is a convenient and inexpensive way to receive the maximum usage from every element. The yellow indicator in the filter monitor gauge drops as dirt accumulates on the filter element. The element is ready for change-out or servicing when the yellow indicator reaches the red zone. This allows you to determine the condition of the filter element even after the equipment has been shut down. The element should be replaced at the maximum noted pressure drop, or the manufacturer's recommended level. For use on inlet filter silencer and inlet filters.
Continuously monitors filter
Easy filter maintenance
Maximized filter element life
Reduced downtime
Graduated restriction readings
Vacuum Gauges
Monitor amount of restriction across the filter assembly or element, when installed on the inlet and outlet
Convenient and inexpensive way to assure maximum usage from filter element
1/4" connection
0 – 30" Hg (0 – 760 mm Hg)
To be used on CSL, ST, CT Series
Download Datasheet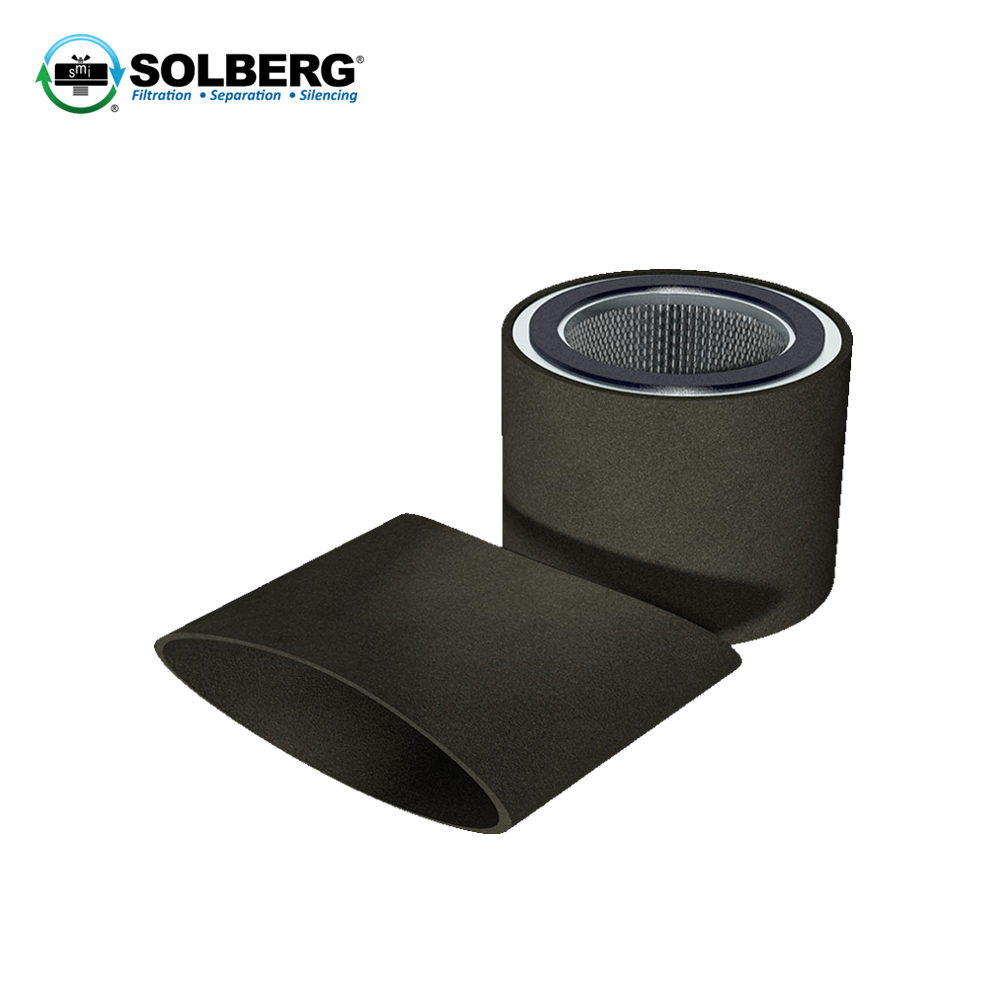 Solberg prefilters extend the life of our filter elements. Solberg designs and manufacturers filter silencers, vacuum pump filters, liquid separators, and oil mist eliminators for compressors, blowers, and vacuum pumps. Foam prefilters extend the life of Solberg filter elements by adding an additional preliminary layer of filtration. Prefilters are suitable for most applications.
Foam wrap material construction
Dust loading capacity is increased by 40-50% with a prefilter added to the filter element
Minimal impact on pressure drop
Prefilter heat stamping for custom imprinting
Applications
Can be used in all applications to extend the life of the filter element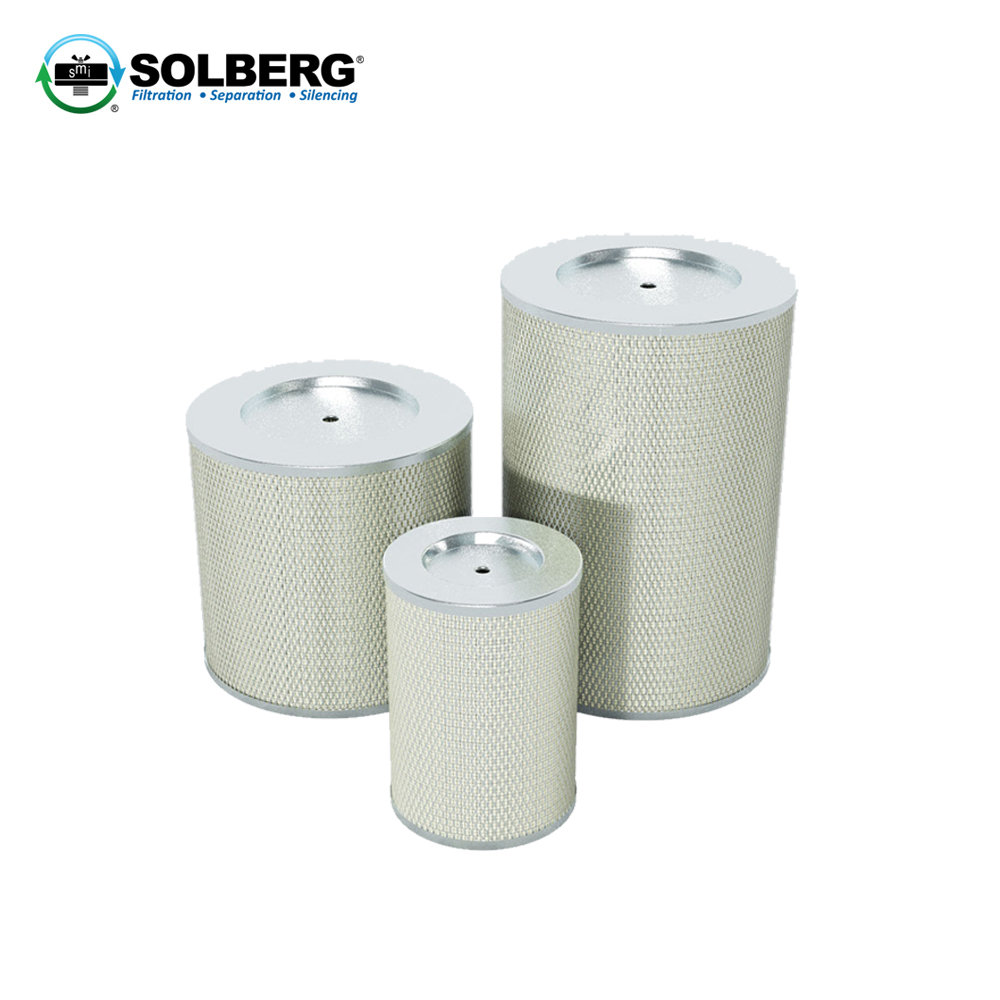 Coalescing Filter Elements: 0.3 Micron Rating
Our coalescing filter elements capture oil mist aerosols present in the air stream. These elements are designed for use at the discharge of oil-sealed vacuum pumps and compressors. Each is constructed with Solberg's proprietary filter media packs, consisting of multiple layers and combinations of materials. Once a coalescing filter reaches a desired saturation point, oil within the element begins to drain, and the captured oil can be collected in a housing for reuse or disposal.
High efficiency at low pressure drop
Increased surface area in a given volume allows for low velocity separation of ultra-fine oil mists
Low oil carryover
Specifications
0.3 micron media; 99.97% efficiency
Continuous operating temp: 68°F (20°C) to 180°F (80°C)