Compressed air has applications in virtually all industries. Its uses range from being a reliable source of pneumatic power in manufacturing plants to operating critical instrumentation in process industries. In every application, air quality can be adversely affected by contaminants, such as water, oil and dirt. The result is lower productivity, increased maintenance, and higher operating costs. Van Air Systems compressed air dryers are an affordable and energy-free solution for preventing moisture condensation and freeze-ups in compressed air lines. Trust a high quality, energy-efficient compressed air dryer to keep your air system flowing.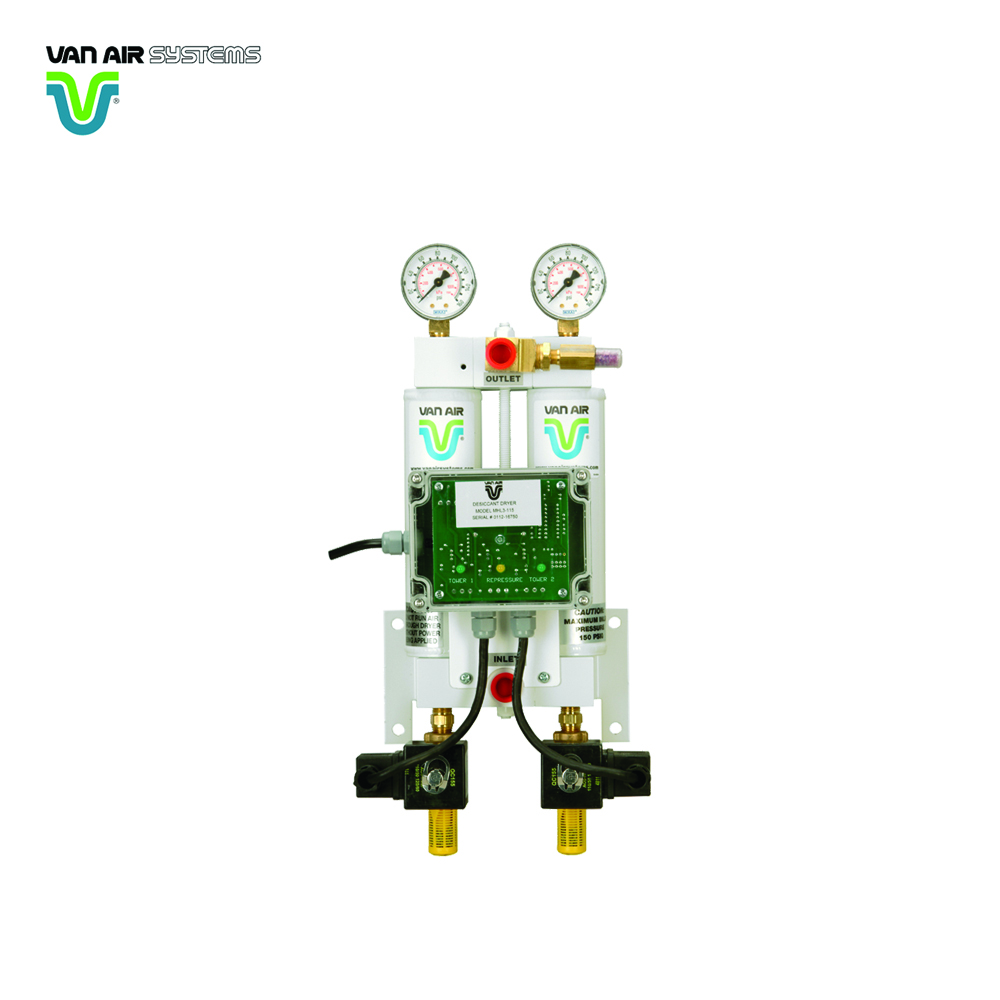 MHL-3 through MHL-50 are compact, simple to install, and easy to maintain. These dryers deliver a -40°F pressure dew point to protect pneumatic equipment and processes from the harmful and costly effects of moisture. When treating small volumes of compressed air, an MHL series heatless regenerative desiccant compressed air dryer can deliver dew points down to -100°F in critical applications. Clean and dry compressed air keeps the most vital pneumatic equipment and processes operating smoothly and efficiently.
Features & Benefits
3-50 SCFM
Automatic Controller
Solid state timer with LED status indicator lights for visual monitoring
NEMA 4 electrical rating is standard (NEMA 4 optional)
Easily serviceable components
Low air velocity through the desiccant bed for efficient drying
Applications
Laboratories
Low flow manufacturers
Critical point-of-use
Car wash controls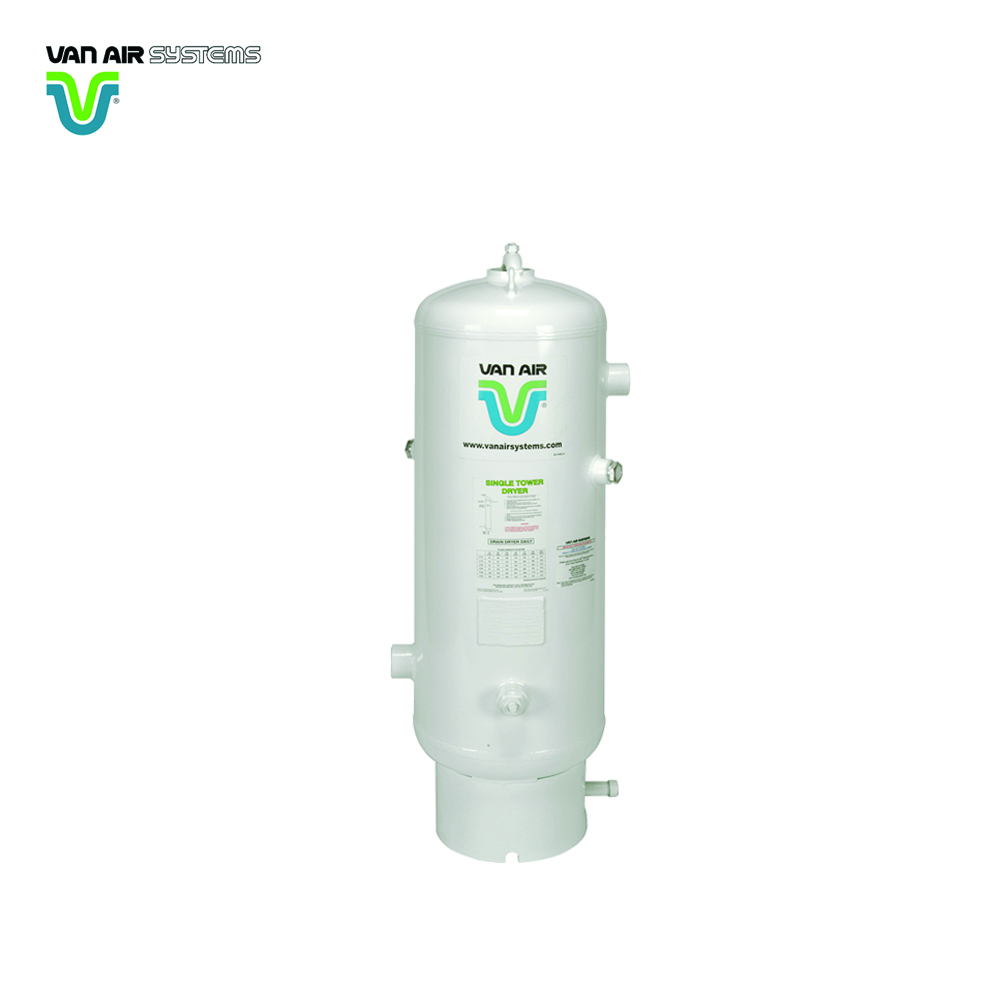 SINGLE TOWER DELIQUESCENT
Van Air Systems D-Series Compressed Air Dryers are single tower deliquescent compressed air dryers for stationary applications. D-Series Dryers remove harmful water vapor from compressed air lines. Wet compressed air enters the bottom of the dryer and flows upward through a bed of deliquescent desiccant, which absorbs moisture as it slowly dissolves. Condensate drops to the bottom of the vessel to be drained. Dry compressed air exits the top of the vessel. When used with Dry-O-Lite desiccant, the D-Series Compressed Air Dryer automatically provides a dew point that is approximately 20°F lower than temperature of the air at the vessel inlet. For example, if the air inlet temperature is 80°F, the D-series Dryer delivers a 60°F dew point. If the air inlet temperature is 50°F, the dryer delivers a 32°F dew point. Ideal for a wide range of applications, these compressed air dryers protect against freeze-ups in the winter and liquid in the summer. D-Series Compressed Air Dryers may be installed inside or outside, and with a pressure drop less than 1% of the operating pressure, they are ideal for low pressure applications. Also with no moving parts or electrical components, D-Series Compressed Air Dryers can be applied with confidence in dirty and hazardous locations.
Features & Benefits
Low Cost
No power required and no moving parts
10 year vessel warranty
20°F to 63°F dew point suppression
Prevent air line freeze-ups
Applications
Industrial plant air
blast rooms and paint booths
Rail yards
Landfill gas and digester gas
Ready mix, cement, and asphalt plants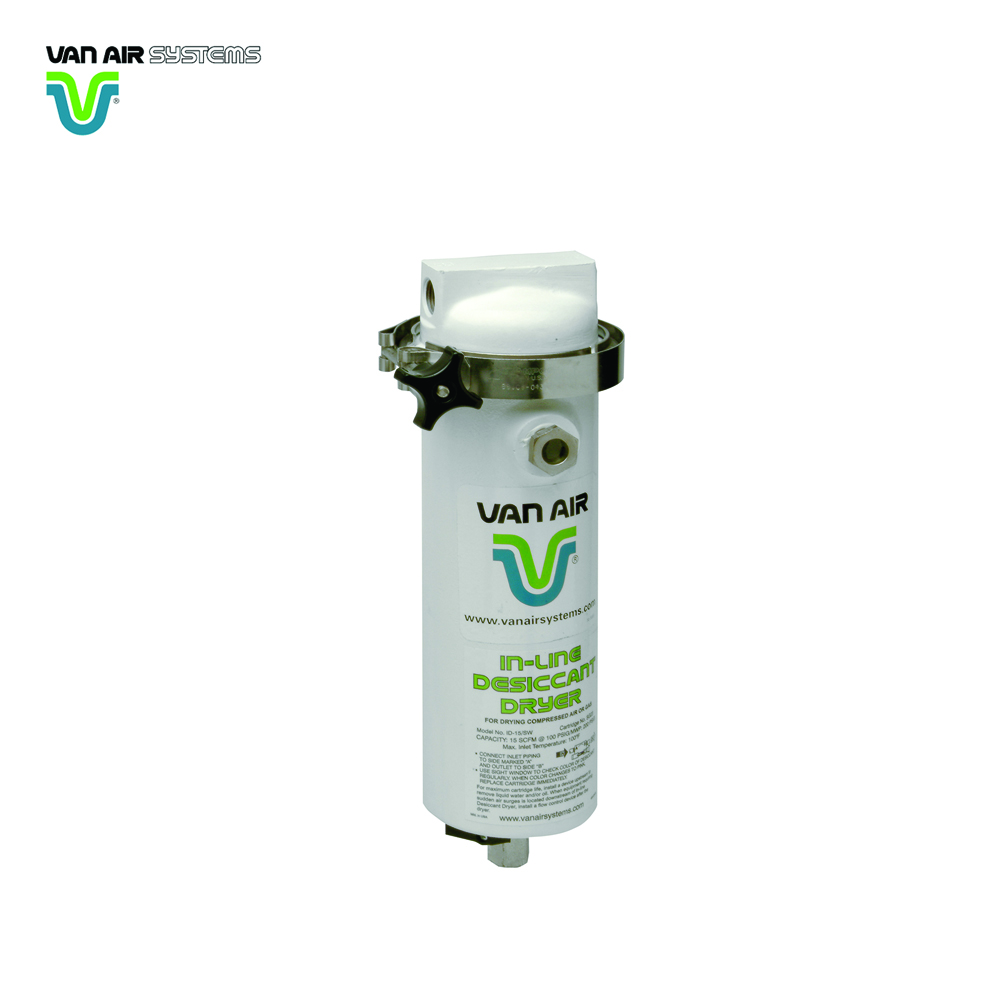 Van Air Systems In-line Desiccant Dryers supply a -40°F pressure dew point and are ideal for pneumatic equipment or instruments that require small volumes of extremely dry compressed air or gas. Van Air offers two types of desiccant cartridges. Model ID15/SW uses a disposable silica gel cartridge. The beads are impregnated with a moisture indicator. A sight window on the body of the dryer is present to view the condition of the silica gel, which turns from blue to pink when saturated with moisture, signaling that it's time to replace the cartridge. Model ID15/IND uses a disposable molecular sieve cartridge and has a moisture indicator on top of the dryer housing that indicates the condition of the material in the cartridge.
Features & Benefits
-40°F pressure dew point
Low pressure drop, less than 1 PSID
Industrial grade materials of construction
No power or moving parts
Ideal for intermittent flow applications
Easily replaceable desiccant cartridge (ID-15 only)
Visual indication of desiccant life
Applications
Pneumatic control systems
Paint spraying
Drying natural gas
Point-of-use drying
Fuel gas for thermometric generators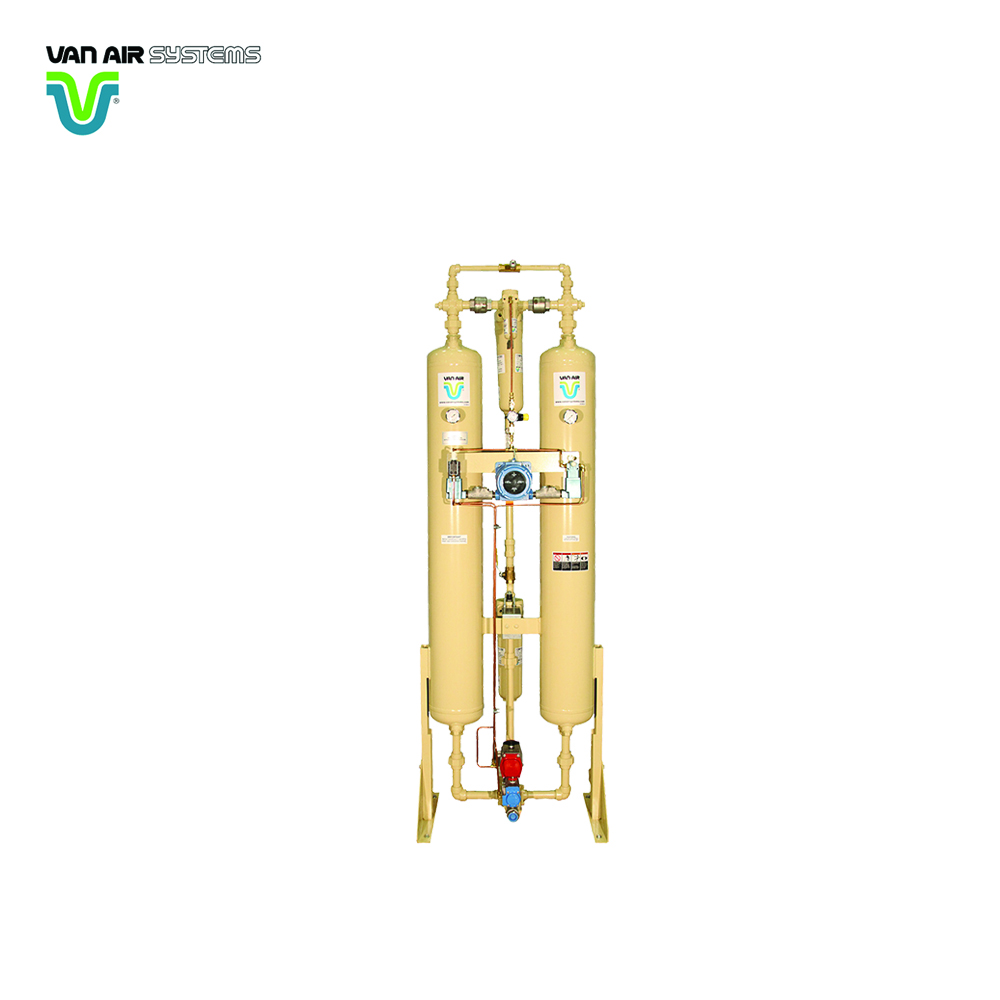 Van Air Systems HLSXA regenerative desiccant compressed air dryers deliver extremely dry compressed air in the harshest and most challenging operating environments, where safety and performance are of central importance. HLSXA dryers are explosion proof and have been designed to operate in areas classified as hazardous, Class 1 Division 1, Groups C & D, per the National Electric Code. In the oil & gas and petrochemical industries, operators often rely on compressed air to run essential equipment and instrumentation within confined spaces where explosive gases may be present. In these environments, all equipment must be designed to eliminate the possibility of spark generation and explosions. All electrical enclosures and components on HLSXA have been designed and tested with these conditions in mind.
Features & Benefits
55-800 SCFM at 100 PSIG
-40°F pressure dew point
Explosion proof controls, Class 1 Division 1 Groups C&D NEMA 4/7
250 PSID maximum working pressure
Power supply 115V-1PH-60HZ or 12 V DV
Small footprint for convenient installation
Applications
Instrument air drying in hazardous area locations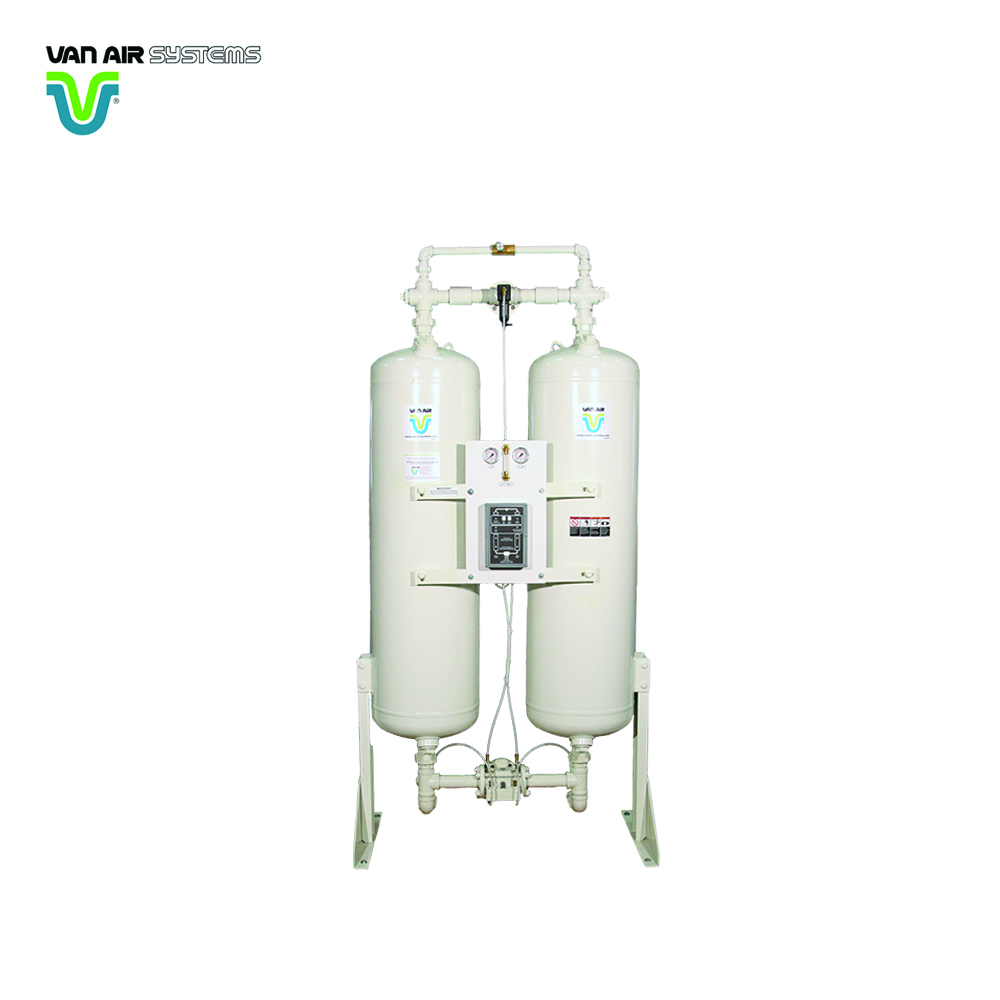 Engineered for long service life and superior protection of your air-operated equipment and processes, Van Air Systems HL series heatless regenerative desiccant compressed air dryers deliver the peace of mind of high quality, value and fast delivery. All HL series compressed air dryers include patented Interlock Logic valve sequencing to protect compressed air systems from premature loss of flow or pressure. Interlock Logic guarantees that each phase of the drying cycle is completed before the next can begin. This ensures uninterrupted air flow at constant pressure for downstream equipment and prevents accidental vessel re-pressurization, a vital safety feature. HL series compressed air dryers have a full range of control features. Standard touchpad controllers (on models HL-2500 and below) include real-time status displays, plus a hold feature to preserve system pressure and conserve energy. The controller also features a switching failure monitor for immediate notification of any cycle disruption.
Features & Benefits
200-2000 SCFM
Interlock logic 3-way transfer valve
Solid state timer with LED status indicator lights for visual monitoring
-40°F to -100°F pressure dew point
ASME code stamped vessels
Standard touch pad controller
Applications
Pharmaceutical
Manufacturing
Refining and petrochemical
Power generation