INDUSTRIAL SILENCERS FOR BLOWERS & VACUUM PUMPS
Noise emitting from positive displacement blowers and compressors can be disruptive to the surrounding environment. Solberg silencers use reactive and absorptive noise abatement technologies to help control noise and pulsations emitting from blower intake and discharge, compressor inlets, and through the discharge ports of vacuum pumps. Solberg's variety of intake silencers work to reduce your overall level of noise. Our Blower Base Frame discharge silencers (BBF Series) reduces the overall size of your blower package, minimizes labor, and makes assembly easier. Experience exceptional noise reduction in tough operating environments with all of our silencing products. For more information, call 02-168-3193-5 #109 or add Line ID: @multiphase (available 24 hours a day)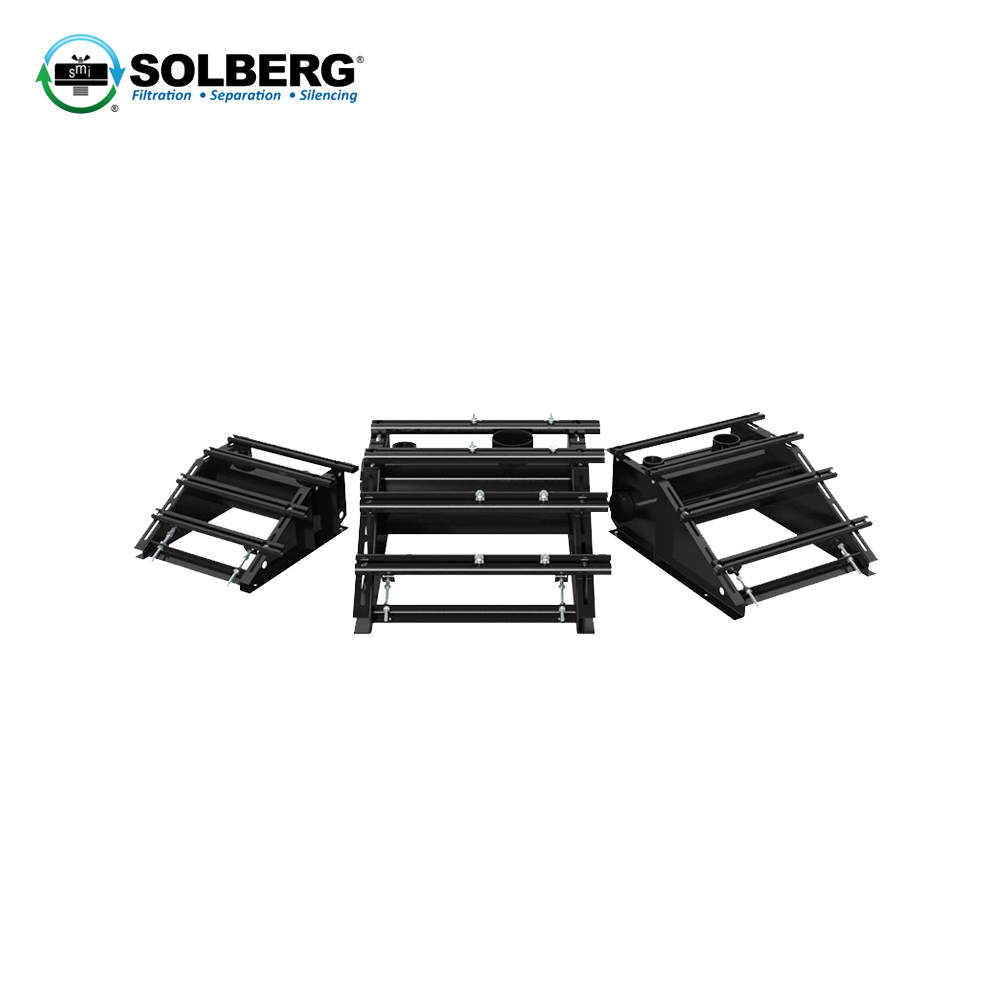 BBF Series: Positive Displacement Blower Silencer Frames
Solberg's industrial silencers will lower your equipment's noise level. The BBF Series also minimizes the overall size of your blower package, reduces labor requirements, and makes assembly easier. Solberg's Blower Discharge Silencer Frames help save space and lower costs by:
Maximize Productivity – From junior to experienced technicians, assemble & ship blower packages faster with fewer resources.
Significant Costs Savings – Only one vendor needed to help you improve margins through lower labour and material handling costs.
Engineering Support – Design specifications and drawings are available to help you configure and present your package to your customers.
Ultra Compact Design – Integrated Discharge Silencer offers a low profile and small footprint.
Build Your Sound Enclosure Competitively – The compact design allows you to build significantly smaller and less costly enclosures to meet more stringent noise level requirements.
Specifications
Pressure rating: 14.7 PSIG
Hardware kit included (USA std. nuts, bolts, washers)
Ports for relief valve, pressure & temperature gauges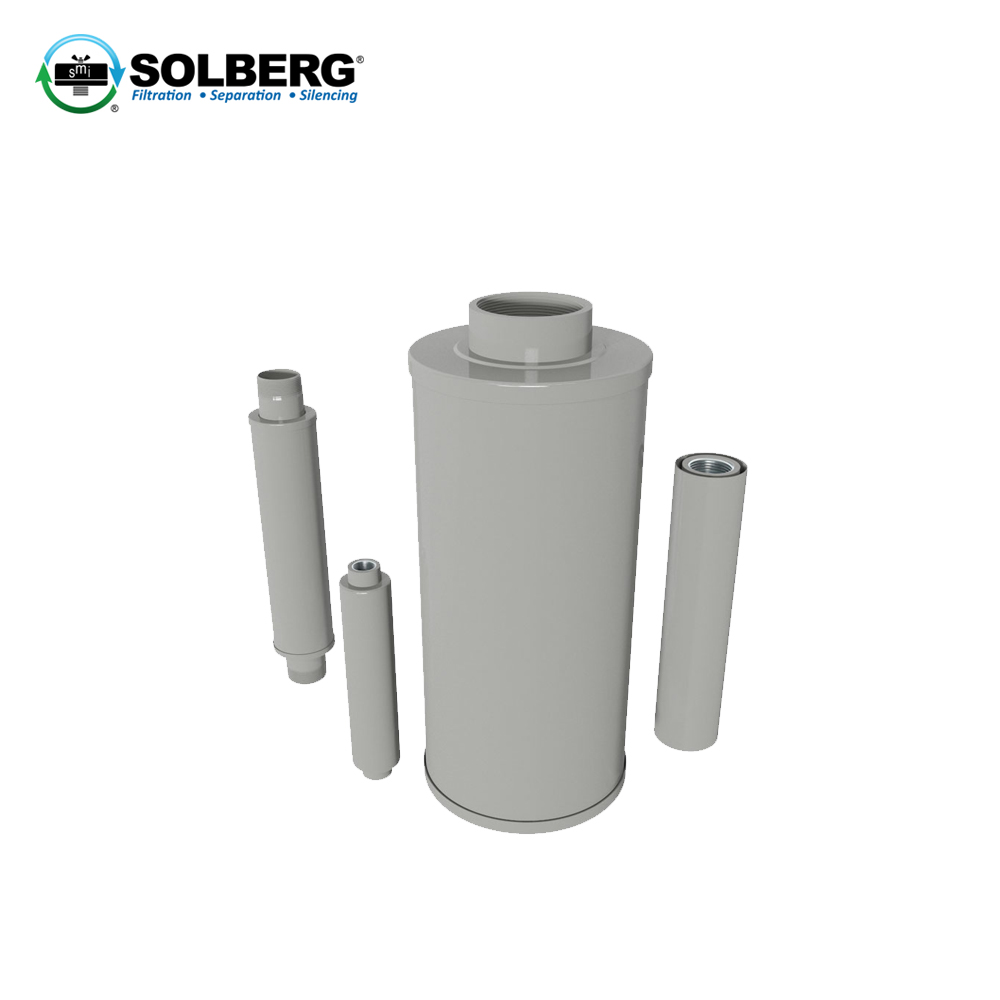 SLCR/SLCRT Series: Side Channel Blower Silencers
Tubular absorptive silencers that may be used on compressors and the inlet or discharge of regenerative/side channel blowers. See below for flows and connection sizes. For larger flows, other connection sizes, or discharge silencers for blower systems, please request Technical Assistance above. Our technical team will contact you to work with your specific silencing requirements.
Absorptive media pack
Designed for minimal pressure drop
For inlet and discharge inline air service
Corrosive resistant gray powder coat carbon steel: 1/2" to 1 1/2"
connections; epoxy coat finish: 2" to 4" connections
Specifications
Max. temperature (continuous): 225°F (107°C)
Due to the wide range of equipment and environments, please contact factory for typical noise attenuation for your application
EFS Series: Compact Discharge Filter Silencer
The EFS Series provides filtration and silencer for discharge of dry pumps such as dry scroll and screw type pumps. The multi-stage noise reducing features includes a final stage sound absorbent insert. Typical noise attenuation depends on vacuum pump and application but can provide a dampening effect of up to 13 dba. Construction is corrosive resistant black powder coat carbon steel. Operational orientation can be horizontal or vertical.
Dry Scroll, Piston, Vane and Venturi Vacuum Pumps
Prevent tip seal dust and debris from contaminating the environment
Silence irritating pump exhaust noise
Specifications
Polyester: 99%+ removal efficiency to 25 micron
Temp (continuous): min -15°F (-26°C) max 220°F (104°C)
Seamless drawn housings-no welds to rust or vibrate apart
Durable carbon steel construction with black powder coated
finish
Ability to mount vertically, horizontally