SUBMERSIBLE AXIAL FLOW PUMPS (MVS & AVS SERIES)
Erik Pump provide effective products that manufactured from materials according to the highest international industry standards. Our pump are various types according to usage including Vertical Turbine Pumps, Submersible Axial Flow Pumps, Split Casing Centrifugal Pumps, Horizontal Centrifugal Pumps, Single-Stage End Suction Pumps etc. Consequently, we are therefore a brand which recognized and trusted by both public and private customers. For more information please call 02-168-3193-5 #109 or Line ID: @multiphase
SUBMERSIBLE AXIAL FLOW PUMPS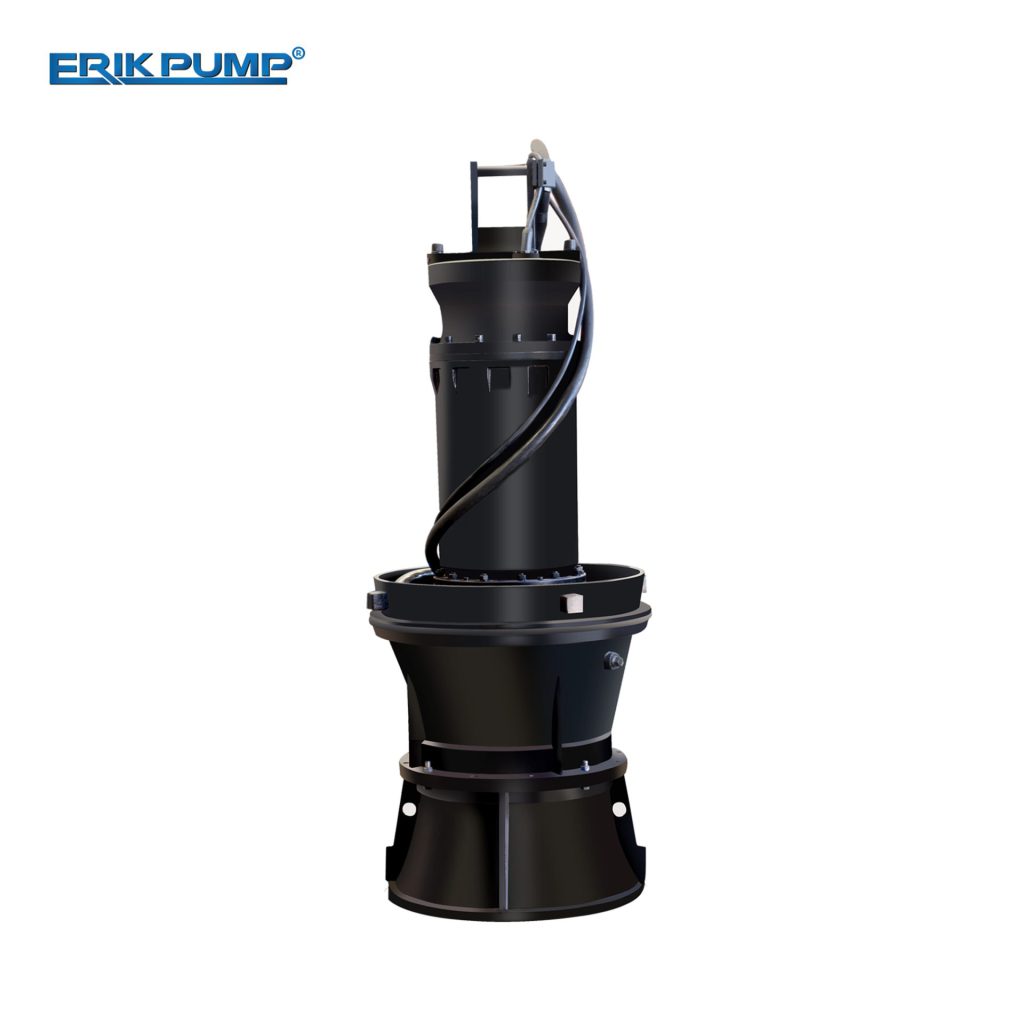 MVS & AVS SERIES - SUBMERSIBLE AXIAL FLOW PUMPS
MVS series axial-flow pumps AVS series mixed-flow pumps (Vertical axial flow and Mixed flow submersible sewage pump) are modern productions successfully designed by the means of adopting foreign modern technology. The new pumps' capacity are 20% larger than the old ones. The efficiency is 3~5% higher than the old ones. MVS & AVS series pump with adjustable impellers has the advantages of large capacity, broad head, high efficiency, wide application and so on. The material of the series of AVS/MVS Axial flow and Mixed flow submersible pump can be casting ductile iron copper or stainless steel.
Technical Data
Diameter: DN350-1400 mm.
Capacity: 900-12500 m³/h
Head: Up to 20 m.
Liquid Temperature: Up to 50ºC
Features
Installation of Suction and Discharge Pipes
Suction Pipe: According to the outline drawing in the booklet. The smallest depth of the pump under the water should be bigger than the datum in the drawing.
Discharge: Flap valve and other methods.
Installation: MVS series are suitable for elbow cantilever installation, well cantilever installation and concrete well cantilever installation.
Motor
Submersible Motor (MVS series) Power Class: Electric performance meets GB755
Protection Class: IP68
Cooling System: ICWO8A41
Basic Installation Type: IM3013
Voltage: Up to 355kw, 380V 600V 355KW, 380V 600V ,6kv, 10kv
Insulation Class: F
Rated Power: 50 Hz
Length of Cable: 10 m.
Shaft Seal
This type has two or three mechanical seals. The first seal, which contacts water, is usually made of carbon silicon and carbon silicon. The second and third are usually made of graphite and carbon silicon.
Leakage Protection
MVS AVS series has leakage protection sensor. When the oil house of motor or the wire-box is leaking, sensor will give out warning or stop working and maintain the signal.
Overheat Protector
The winding of MVS series submersible motor has overheat protector. When it is overheated, warning will be given out or the motor will stop working.
Rotating Direction
Looking from upper side, the impeller is rotating clockwise.
Applications
Water Supply in Cities
Diversion Works
Sewage Drainage System
Sewage Disposal Project