VERTICAL MULTI-STAGE PUMPS (GDL SERIES)
Erik Pump provide effective products that manufactured from materials according to the highest international industry standards. Our pump are various types according to usage including Vertical Turbine Pumps, Submersible Axial Flow Pumps, Split Casing Centrifugal Pumps, Horizontal Centrifugal Pumps, Single-Stage End Suction Pumps etc. Consequently, we are therefore a brand which recognized and trusted by both public and private customers. For more information please call 02-168-3193-5 #109 or Line ID: @multiphase
VERTICAL MULTI-STAGE PUMPS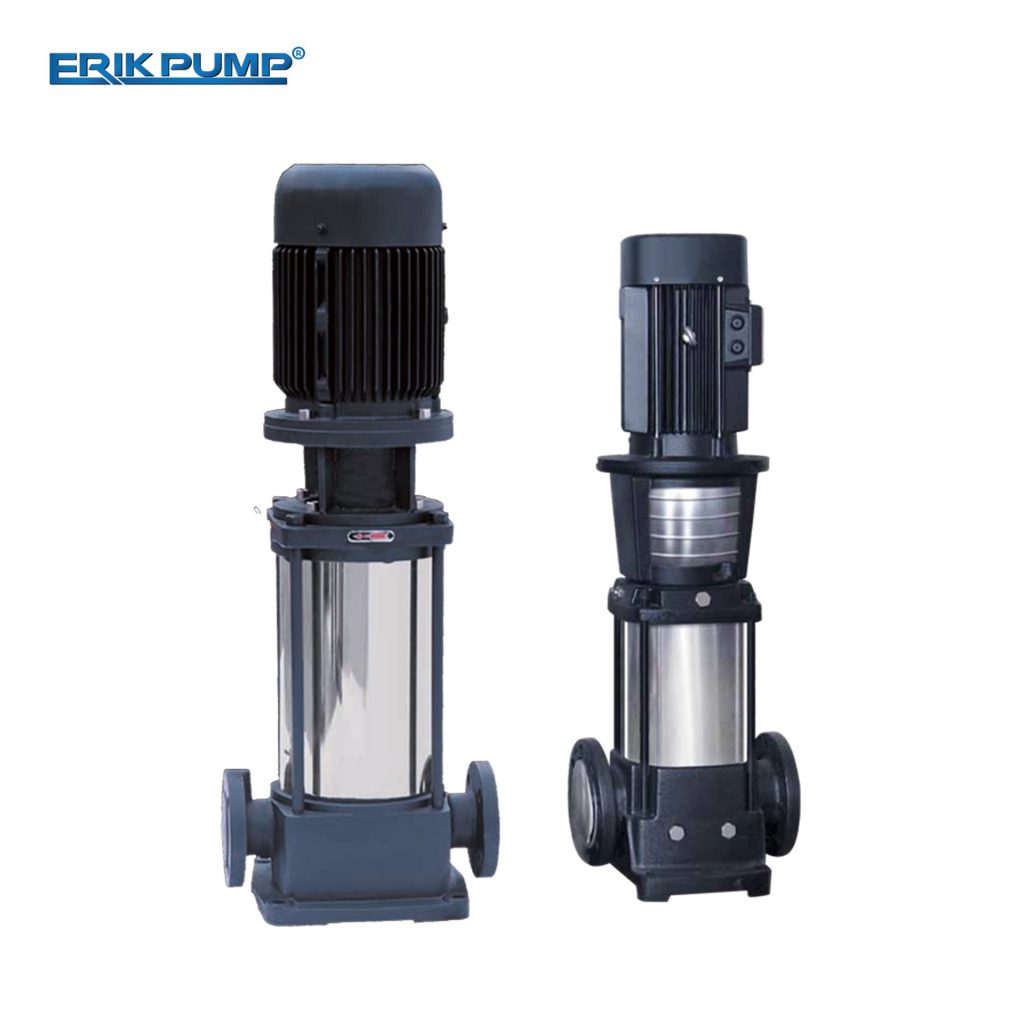 GDL SERIES - VERTICAL MULTI-STAGE PUMPS
GDL non-self suction vertical multi-stage centrifugal pumps mounted with a standard motor, the motor shaft is linked, via the motor seat, directly with the pump shaft with a clutch, both pressure-proof barrel and flow-passing components are fixed in between the motor seat and the water in-out section with pull-bar bolts and both water inlet and outlet of the pump are positioned on one line of the pump bottom; and the pumps can be fitted with an intelligent protector, in case of necessity, to effectively protect them against dry movement, lack-of-phase, overload etc.
Technical Data
Capacity: 0.8-150 m³/h
Head: 6-400 m.
Liquid Temperature: -20-120ºC
Operation Pressure: ≤40 bar
Features
Thin, clean, non-combustible non-explosive liquids containing no solid grains or fibers.
Liquid Temperature: constant-temperature type -15~+70℃, hot-water type +70~120℃.
Ambient Temperature: max. +40℃.
Elevation: Max. 1000 m.
Applications
GDL are the products of multiple functions, applicable for transporting various different media from tap water to industrial liquids and suitable for different ranges of temperature, flow and pressure. GDL is applicable for non-corrosive liquids while GDLF for lightly corrosive ones.
Water Supply: filter and transportation and quartering water feed for water works, boost for main pipes and high buildings.
Industrial Boost: flowing water system, cleaning system, high pressure rinsing system, fire fighting system.
Industrial Liquid Transportation: cooling & air-conditioning system, boiler water supply & condensing system, completion of machine tools, acid and alkali.
Water Treatment: extra-filter system, reverse osmosis system, distilling system, separator, swimming pool.
Irrigation: farmland irrigation, sprinkler irrigation, trickle irrigation.