The MILROYAL® series metering pumps are the most reliable, industrial-duty metering pumps for critical processes in industries such as oil and gas, chemical and petrochemical processing, Drag Reducer Agent (DRA), and industrial water treatment. For more information please call 02-168-3193-5 #109 or Line ID: @multiphase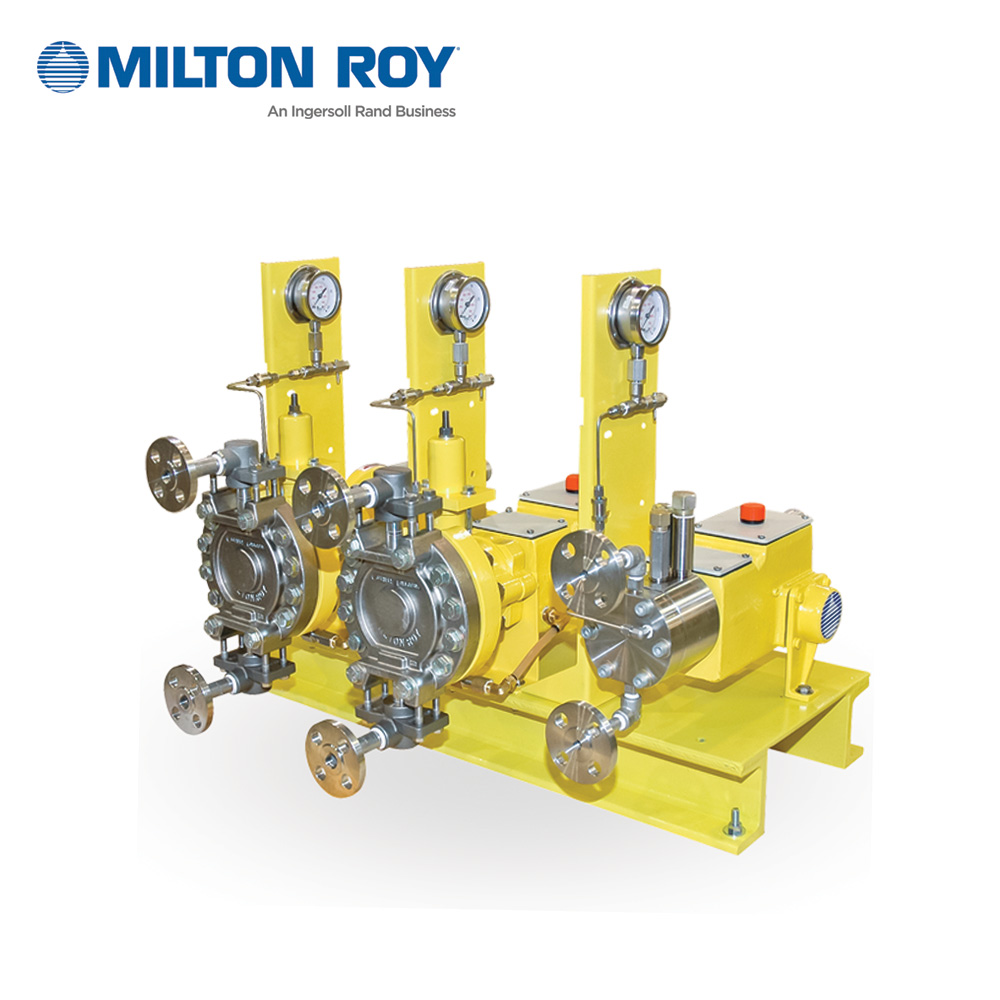 Metering Pump
The key to MILROYAL®'s success is its modular design that accepts a variety of liquid ends and other options that perfectly tune it to your process requirements. With three different frame sizes, these pumps provide precision chemical dosing over a wide range of capacities and pressures.
Specifications
Maximum capacities range from 0.033 gph (125 l/hr) up to 2080 gph (7873 l/hr) per drive
Pressures range from 100 psi (7 bar) in higher capacities up to 20,000 psi (1380 bar) in lower capacities
± 1% steady state accuracy over 10:1 turndown ratio. Turndown can be greatly increased with options.
Benefits
Configuration flexibility. The pump's three frame sizes cover a full range of capacities and pressures and it has the capability to be multiplexed with up to 16 pumps driven by one motor.
Leak-proof performance. A selection of diaphragms including metallic, high-performance, and critical service diaphragms can provide leak-proof performance at pressures up to 20,000 psi (1380 bar)
Accurate flow control. Capacity adjustable by manual control, electronic actuator, pneumatic actuator, or variable speed allows flexible control of chemical delivery.
Applications
Oil & Gas. Milroyal pumps are ideal for high-pressure offshore applications. They consistently inject methanol, corrosion inhibitors, oxygen binders, and other corrosive substances in the harshest conditions in the most remote locations.
Drag Reducer Agents (DRA). With decades of experience and a field proven design, Milton Roy's DRA pumps provide precise injection at strategic points along a pipeline network to reduce turbulence and optimize flow efficiency.
Chemical and Petrochemical Processing. The harsh, toxic chemicals required for chemical processes require metering pumps that ensure accuracy in delivery of these critical and difficult fluids. Milroyal pumps' modularity allows a selection of liquid ends and configurations to ensure you get the right pump for chemicals being handled.
Industrial Water Treatment. Industrial process water must be treated efficiently and cost-effectively in compliance with quality standards. The reliability of Milroyal pumps deliver accurate chemical delivery and provide long-term cost benefits.